Some Wellesley landmarks are so special that master LEGO builder Nick Tatar feels compelled to recreate them with the little plastic bricks he so artfully pieces together.
Tatar, assistant dean of student life at Olin College in Needham, has already assembled this miniature version of the Sprague Memorial Clock Tower (guess we won't be able to go inside this one like with did with the real one over the summer).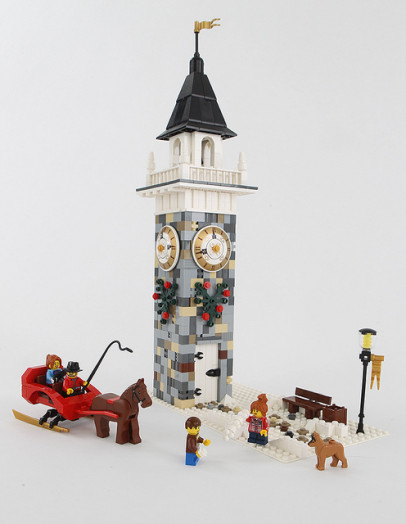 And now he's working on a model of Wellesley Town Hall, which is none too simple of course with its mix of colors and intricate architecture. In fact, Tatar wouldn't mind finding an organization to sponsor this project, which he'd happily hand over for display (contact him here).
As of early November, Tatar had used about 3,000 pieces on the Town Hall model and wasn't quite sure what the total would need to be. He took a brief walk-through of the building recently to get the basic layout down, though could use old pictures of the interior to further educate himself. His plan for the model is show a cut-away of the building: The outside visible on one side, the inside visible on the other.
According to Tatar's college alumni website, he picked up LEGOs as an adult in recent years when his young sons started playing with them. Since then, Tatar's work has been showcased on LEGO bloggers and he's been written up in local newspapers, like the Needham Times, which covered his 15,000-piece Needham Town Hall project during the town's 300th anniversary year of 2011.
Needham's 300 committee sponsored that project, which found a home in the library, where an I Spy game was added to it to help engage kids in town history (the project cost about $3,500, including for a display cover… all funding went to the cost of the materials). You can see more of Tatar's masterpieces, including a working cuckoo clock, here on Flickr.
Tatar is looking to unveil what's been done so far on his Wellesley Town Hall model when he appears at Wellesley Free Public Library with his LEGO winter village layout on Dec. 13 & 14. For fun, he'll run some LEGO trains around the winter village during that window too: Friday from 10am-12pm and 2-6pm and on Saturday from 10am-12pm and 1-4pm