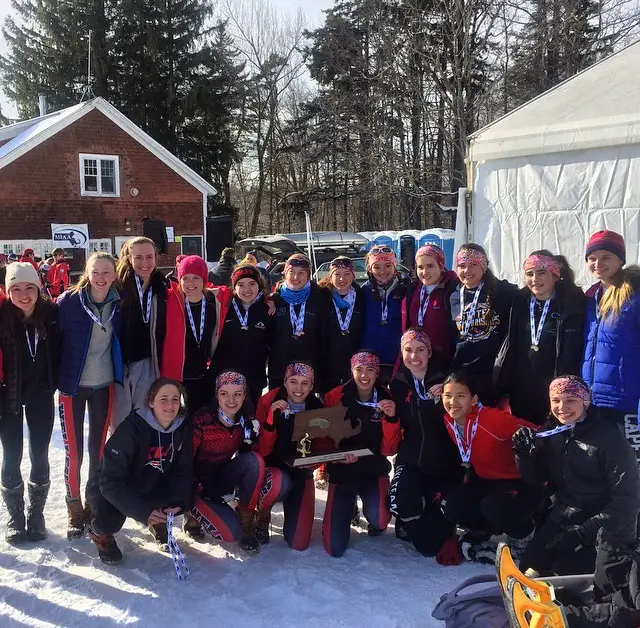 Congratulations to the Wellesley High School girls' cross-country ski team, which yesterday made good use of the record snowfall and won the MIAA Nordic Freestyle State Championship at Notchview Reservation in the Berkshires. Mount Greylock finished second, with 55 points to Wellesley's 36 (lower score wins).
Wellesley sisters Madeline and Hannah Reider finished in the top five racers, and teammates Emily Meara and Eve Driver were among the top 15. Claire Sibold, Loren Andrews, Ella Redmond and Katherine Decker also raced, with Allison Witt and Katie Smith as alternates. Rounding out the roster: Lindsay Aitkin, Lauren Alexander, Natalie Boyle, Cole Callahan, Julia Coddington, Fiona Corkhill, Kelly Min Crowley, Emily Dudek, Erin Duffy, Charlotte Fletcher, Kate Fletcher, Kathleen Garvey, Liza Goldberg, Maryann Gulati, Carolyn Hale, Elizabeth Harrington, Lauren Hein, Josie Kampe, Gabrielle Kogon, Katie Kraemer, Anna Liss-Roy, Charlotte Lucas, Dahlia Mahdavi, Caroline McMahan, Eleanor Medley, Lauren Raveret, Ella Redmond, Delaney Sullivan, Julie Wadja, Julia Wall, Bliss Weatherall, Kate Weinberg, Olivia Wigon, Angela Zhang.
WHS math teacher John Fantini coaches the team and credits assistant Marshall Randolph, who has coached for the past 3 years as a volunteer, for helping make the girls' team a success. The team went undefeated for the second straight year in Mass Bay East competition.
The WHS boys' team finished 10th, as Mount Greylock won for the 9th time in 10 years. Skiers Mark Sibold and Jason Canaday both finished in the top 20. Sibold was second in the Mass Bay East league this season and finished in the top 3 in every league race the past two years. WHS finished second in the league.
(Photos courtesy of John Fantini/WHS nordic ski team)
Full coverage here from the Berkshire Eagle. Photos here.