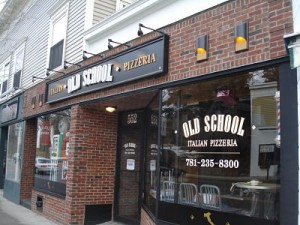 I didn't know Joe Perdoni, Jr., nearly as well as many in town did. Yes, we'd exchanged pleasantries at Old School, as one of our kids and his Hunnewell school pals had been regulars at the pizza joint since it opened. But now, in light of Joe's untimely passing, I'll never forget my one real conversation with him in what had to be the longest phone call I've had with anyone in years.
I'd been looking into what happened to Old School's neighbor, White Mountain Creamery, which shut down suddenly in October. I emailed Joe to see if he had any idea what was up and he gave me a call during my lunch break at work. He said I was welcome to use his comments, though I never imagined I would under these circumstances.
Joe was heartbroken about White Mountain shutting down. He considered the owner a friend, recalling how he'd let Joe use his walk-in freezers when Old School was starting up. Joe was worried about the owner disappearing, but was even more upset that the young people who worked there were stiffed on pay. Joe said he was offering those workers jobs at Old School to at least make back the money they weren't paid.
"I don't want those kids being left with the impression that this is how the working world is," he said.
He even floated the idea of buying the space (since acquired by Yogurtology) to sell ice cream and provide an arcade for kids.
The kids is what he kept going back to during our conversation. He talked about his own children. And he talked about the kids who came to his shop. "Tell your son to introduce himself to me," he urged. "I don't care if the kids just come in and loiter. Lots of times they just come in to get out of the rain." While some businesses in town feel the need to brace themselves for the onslaught of school kids released on early days, Joe embraced it.
Joe, who by this point in the conversation was calling himself "Joey" and me "Bobby", shared his concerns about some kids in town going down the path toward serious drugs, like heroin. "I've seen kids I coached get into drugs. I've seen kids in here who were high."
He talked about kids needing more places to be able to hang out in town and mentioned coaching in a new flag football program with Wellesley's Joe Roberts as a way to give kids another way to stay busy.
"Parents get busy, I know how it is working 7 days a week, taking kids to hockey and soccer and school. Everyone's jammed up, but you have to take a deep breath, say your prayers and brush your teeth" he said. "If something bad happens, come to Mom and Dad. Parents need to build that up. Kids who are sticking needles in their arms are crying for help."
The one-time Wellesley High and Georgia Tech football player suggested we meet, and gather up some others as well as the police, to discuss what can be done in town to keep opiates at bay. "We can use my place," he said. "We need to get to the bottom of where the heroin is coming from. It's going to kill kids. I don't think the schools know how bad it is."
Joe reflected on his own youth. He credited Wellesley High football coach Jesse Davis's mom for really teaching him how to read.
He had kind words for many others, too. A landlord who showed leniency when Old School was starting up. A Wellesley resident with her own serious health problems who pushed Joe to exercise in order to recover from serious back troubles.
Now it's those who befriended Big Joe who are sharing kind words, citing his "warmth", "heart" and "generosity".  Many have commented on our Facebook page as well as on our original post about Joe's passing.