If you're looking to spend a few hours in Boston and want to feel like an insider, one who knows that the sweet spots in the city can't be seen on a Duck Tour or at Faneuil Hall, go as soon as you can and check out three lovely gardens that are all in easy walking distance of one another and should be counted as a few of Boston's best-kept secrets.
Here they are in a nutshell: First, The Museum of Fine Arts has a lovely jewel-box of a Japanese garden, recently renovated; next, across the street, over the stone bridge, and down the path will lead you to the Kelleher Rose garden which is in full — and I do mean obscenely full — bloom right this very second, and likely for about the next week's worth of seconds as well.  From there, stroll through the Fenway Victory gardens, which is like touring 500 gardens in miniature, minus the fussiness of your average garden tour and the suspicions you've always harbored that such tour-worthy gardens reflect more of the landscaping crew's vision than that of the actual garden-owner.
I managed the transportation component in an easy 40 minute drive via Route 9E from Wellesley to Boston and quickly found meter parking near the MFA. Quarters or your credit card will buy you four hours of time, which is plenty to see all three gardens and followed by lunch at one of the many restaurants at the busy end of Peterborough St., known as restaurant row.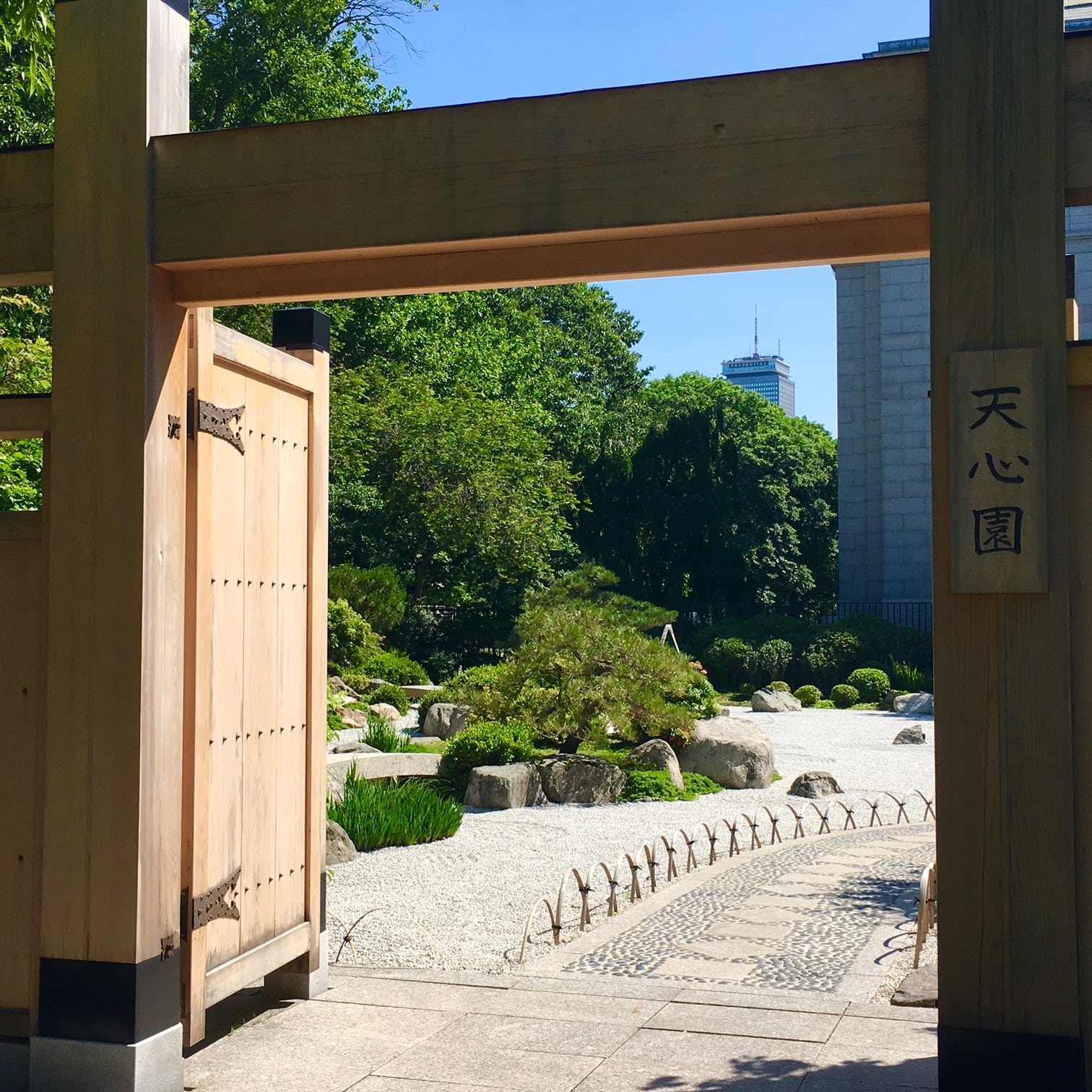 First, I went to the MFA Japanese Garden, located on the school entrance side of the museum (the parking lot side where you can look up and see the Joseph Borofsky Walking Man sculpture). The garden is named for a former curator of Chinese and Japanese Art, and it's the tiniest, most orderly of the three gardens you'll see on this tour. Reopened in April 2015 after an extensive renovation, this is the type of garden where there is a place for the over 200 stones and seventy species of plants, and every stone and plant is in its place. It's peaceful, lovely, and oasis-like in the middle of the bustle that is Boston.
From there, cross the street over to the Fens area (the back side of the museum, where Antonio Lopez Garcia's giant baby heads are), go over the stone bridge, pick your way around the Canada Goose droppings that carpet the sidewalk, and look on the right for the James P. Kelleher Rose Garden, enclosed by a hedge of evergreens. Get ready to leave behind your feelings of disgust stirred up by the minefield you just tiptoed through, because when you go through that white gate, it's another world where fountains splash and a marble nude reclines and the air is fragrant, in the right sort of way.
June has proved itself to be sunny and dry this year, perfect for roses that managed to avoid those couple of wet, windy mid-spring days that just about ruined the peony display. (Happens every year to the peonies. Why oh why don't I just pull up and compost every one of them that grows in my yard, when I suffer such peony-induced heartbreak season after season? Because one suffers for beauty, that's why. My pull-up-and-compost threats are empty. Like my soul after a driving spring rain attacks my peonies.)
Right. Back to the roses. Sorry about that digression. Blogging about my garden disappointments is easier and cheaper than therapy. Back on track here.
Designed by noted landscape architect Arthur Shurtleff, the Kelleher Rose Garden contains over 1,500 roses from classic hybrid teas to the humble rosa rugosa, which can be found on every respectable path on the way to every respectable beach on Cape Cod, to the New Dawn climber that, as you may remember, I have nearly killed in my own garden but am coaxing back to life. The best time to see the Kelleher Rose Garden is right now, although it is open through October. The best time to see my New Dawn climber will be in three years or so.
Now it's time for my favorite of the three gardens, the Fenway Victory Gardens. The Fenway Victory Gardens are the oldest continuously operating Word War II Victory Gardens in the United States. Over 500 plots spanning 7.5 acres are tended by members who pay $40 per plot. Of course, there's a waitlist to get a plot, however a stroll through the gardens reveals that although most of the plots are as tended as much-loved children, there are always a few that look abandoned. So there's hope for the waitlisted, because stewardship is big here, so plots that aren't worked are turned over to the next in line.
The Fenway Gardens are a wonderful bohemian mix of vegetables, grape arbors, zinnias, dahlias, water features, cobbled-together sheds, crazy garden art, and more. I love it there. I don't know any of the Fenway Victory Gardeners personally but still, they are my people.
Last stop: lunch. Peterborough St. has the most wonderful stretch known as restaurant row, where I had a wonderful savory crepe at Neighborhoods Cafe. There are at least six other spots all in a row to choose from, so refuel after all that garden touring and then it's back up Route 9 to Wellesley, just a stone's throw, really, which is why we all pay what we pay to live there, or so I tell myself.