Emmy Award-winning actor Tony Shalhoub was in town last night to take part in a theater-in-the-rough performance at Commonwealth Shakespeare Company, in residence at Babson College, at the Sorenson Center for the Arts. Best known for his television work on Monks and Wings, Shalhoub has also appeared on the big screen in Spy Kids, Big Night, Men in Black, Cars, and Teenage Mutant Ninja Turtles. Somehow he squeezed in the BabsonArts reading of Fear and Misery in the Third Reich even though he is currently starring in The Band's Visit on Broadway.
The crowd for the sold-out reading, presented without common theatrical elements like sets or costumes, didn't seem to mind when director Steven Maler came onstage to tell us that Shalhoub had literally just arrived for the 7pm show at 7pm and would therefore need a minute or two to collect himself after the long trip from New York City. Mahler asked us to consider the insane schedule Shalhoub has been keeping and said, "Whatever you do, just love him."
The cold and rainy weather outside was itself a study in fear and misery, and the theater was warm and comfortable, so everyone just settled in to wait for a couple of minutes. Once the performance began, it was off to a world of 1930s Germany in a series of eighteen playlets, sort of a study of life in German homes as Adolph Hitler and the Nazis came to power. Playwright Bertolt Brecht, who wrote the work while in exile in Denmark, showed a time of betrayal; eavesdropping parlor maids impressed with tall, strong, SA officers; trickery; and political divisions even within households.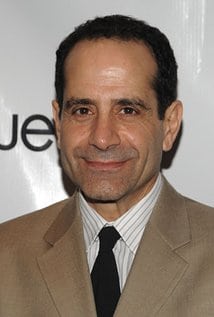 The fourteen cast members, seven of them members of Actor's Equity Association, were placed on an almost bare stage, where they brought the audience to concentration camps; kitchen tables in tenements; factories filled with "satisfied" workers; and to a university science department where PhDs didn't dare utter the name "Einstein." Husbands and wives find out unsettling truths that lurk below the surface of their everyday interactions, and parents and children live in a time of strange family power imbalances. A screen behind them showed a black and white historical-looking picture of each setting.
It was a time when gossip could either gain you an advantage or get you killed. If your child's favorite extracurricular activity was suddenly Hitler Youth, well then it became your favorite extracurricular activity for your child. If you were a farmer, you either secretly hated the government for forcing you to starve your animals or were rather pleased with it for sending you that innocent young girl from the Hitler Youth program for some nice, fresh, country air. So innocent. So young.
But my imagination runs away with me, which is rather the point of this script-in-hand, rough, barely rehearsed sort of performance. It's sort of an invitation to be as in the moment with the story as the actors are, and it's a bit of an insider's look at the process, warts and wonders and all.
There was mostly wonder, and only a few warts mostly in terms of the length of the performance. If the subject matter seems a wart to you, well you can't say the title doesn't give fair warning. However, if you went to see actors immersed in their craft, then you were in the right place.
The after party:
With:
Brooke Adams*
Joel Colodner*
Johnny Lee Davenport*
Seamus Doyle
Nash Hightower
Obehi Janice*
Karen MacDonald*
Deb Martin*
Sarah Mass
Lily Ramras
Tony Shalhoub*
Michael Underhill
Brandon Whitehead*
Steven Maler* (Director)
* denotes Actor's Equity Association member
Victoria Townsend, Assistant Director
Tyler Prendergast, Projection Designer
Jennifer Shubitowski, Rehearsal Assistant
Sarah Vasilevsky, Rehearsal Assistant