Wellesley is keeping its streak alive as a Tree City USA with its 36th consecutive honor as a leafy place in which to live. That's the longest running designation for any town in the Northeast for the Arbor Day Foundation program. The town's commitment to urban forest management is highlighted with signs entering Wellesley and in front of Town Hall.
The Natural Resources Commission (NRC), which acts as the town's Tree Warden in cooperation with the Wellesley Department of Public Works, manages an ambitious tree planting and protection program. NRC Director Brandon Schmitt attended the Tree City USA ceremony in Old Sturbridge Village and said, "A great takeaway from one of the presenters was how we generally think that mature trees are able to withstand a lot more abuse, but in fact, are more susceptible to disease, damage and adverse environmental conditions than their younger counter-parts. We focus a lot on getting new trees established, but we shouldn't ignore the large ones. They provide appreciably more benefits, but are less able to respond to various trauma."
According to Schmitt, this spring, the Department of Public Works planted 105 trees — 30 on public lands and 75 on private property. Over the past 19 years, the Town's Park and Tree Division has planted nearly 2,500 trees, 1,100 of which are on private property. Town Horticulturalist Cricket Vlass notes that Red Maples and Yellowwoods have been very successful and hardy natives in Wellesley.
Although the town regularly plants trees, it's inevitable that trees must be also be removed. "We recently had a tree hearing, and a sizable red oak was approved for removal at the corner of Oakland Street and Partridge Road," Schmitt said. "While we hate to see these mature "veteran" trees go, we have to ensure these trees don't endanger the public, and this one had some serious problems. Similarly, the Town had to remove two elms in Memorial Grove that might have been from the original 1919 planting. Considering the impact of Dutch Elm disease, it was miraculous that we had them as long as we did."
Schmitt has his favorite Wellesley trees: the iconic Station Oak in Post Office Square; a gorgeous Horse Chestnut near the Post Office (opposite the Station Oak and blooming now); and the Carolina Silverbell in the Fuller Brook park just West of Caroline Street. There also is a unique Davidia outside of Town Hall along Washington Street, as well as an interesting Yellowwood at 46 Kirkland Circle that despite getting banged up over the decades, continues to thrive. "But every time I'm out in the field, I seem to find another favorite," he says.
Many of the Town's streets are tree lined, some with a full canopy, meaning the street is entirely shaded.  "Cavanaugh Road is a nice example of what we think of as having a full canopy," Schmitt said, "although sadly, many trees have come down on the street lately due to disease or other problems. Many new trees have also recently been planted there, and I think it's a great example of where the residents on the street want to keep the canopy on the street."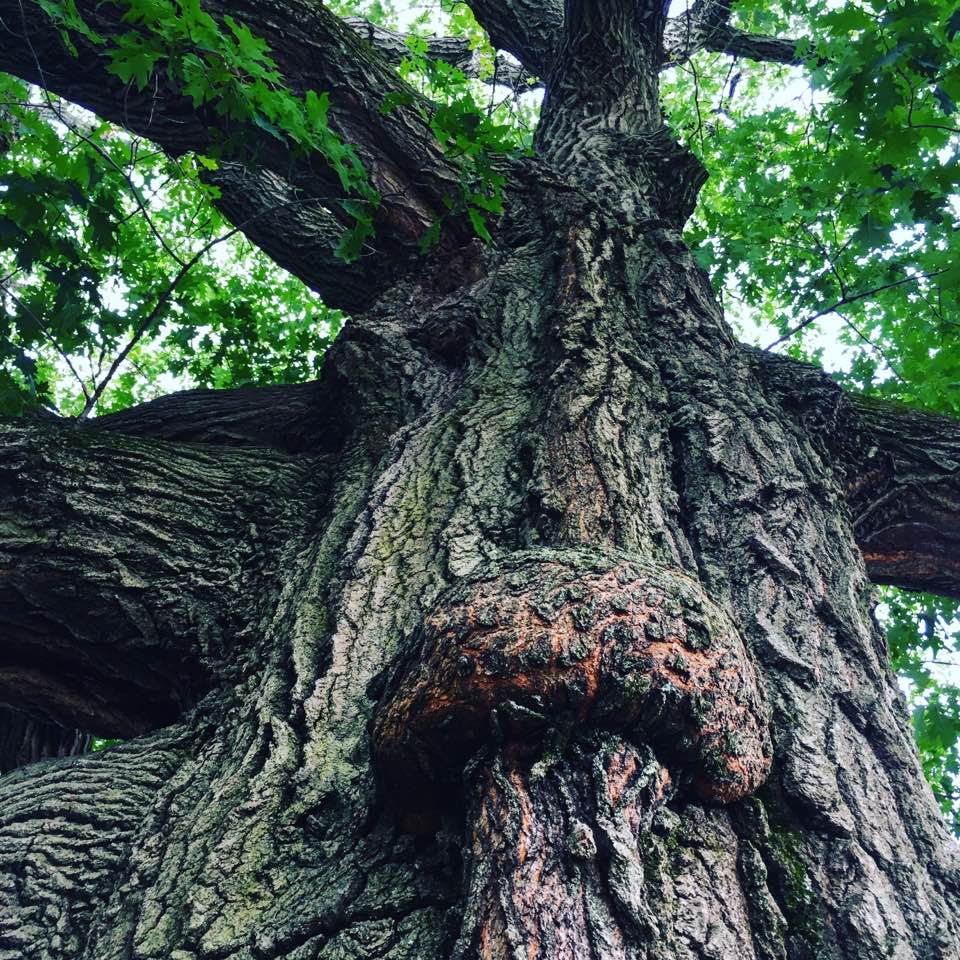 "We are losing quite a number of trees in Town to development, and I believe that many of these could be preserved.   The NRC is working with the Planning Board to review the Tree Preservation Bylaw and see if there are any opportunities to encourage the Preservation of some of these mature trees in Town," Schmitt said.
Girl Scouts and their data-driven project
Wellesley Middle School Girl Scouts in partnership with the Wellesley Natural Resources Commission earlier this spring placed labels on public trees along Central Street in Wellesley Square that illustrated how these trees contribute to air quality.The Girl Scouts labeled over 40 trees along Central Street and another dozen trees at the High School for Earth Month. The labels were taken down after the Wellesley Veterans Parade.
NRC Environmental Education and Outreach Coordinator Lisa Moore met with the Girl Scouts and gave a presentation on the importance of trees and how to use mytree itree software to collect data on the trees. Moore said, "We then went out together and in groups gathered data about each tree we labeled which included, tree species, tree condition, trunk circumference or trunk diameter at breast height (DBH), sun exposure and proximity to buildings and compass direction of trees to nearest buildings.
"We used this data in the itree my tree tool (https://mytree.itreetools.org/) to create the tree nutrition labels. I then created a simplified label for the girls to enter the individual calculated tree data on, and hang on each tree. CO2 stored annually and over lifetime of tree, and other benefits are specific for each tree and depends on the factors we put into the calculations. It was a fun project working with the Girl Scouts and brought a lot of attention to individual tree benefits."
MORE:
The Birds & the Trees: Wellesley plan for Town Forest