The Wellesley High School 37-member-strong girls' swim & dive team heads into the Division 2 state tournament this Sunday at MIT after going undefeated (9-0) during the regular season and topping competitors for the second straight year in both the Bay State Conference and South Sectional Championships.
Taking their cue from swim coach Jen Dutton, who partners with dive coach Ruth Langton Clifford, the girls have not only been tough competitors, but gracious ones. They are 1 of just a 4 swim & dive teams to earn the MIAA Sportsmanship Award this fall.
"With a coach like Jen, who has a quiet demeanor & such humility, she teaches the girls it's a privilege to be able to compete and instills in them its team work that makes it all work," says Tinea Rochelle, whose daughter Keleyia is 1 of 4 captains on the team.
Nellie Thompson, Paige Butler and Isabelle Boegholm round out the official leaders, but this is a deep team that has had contributions from swimmers and divers in grades 9-12. The fact that the team won both the 200- and 400-meter freestyle relays at the Sectionals at Boston University attests to that depth and teamwork, as does the fact that freshman Naomi Boegholm won the 200 individual medley in a time of 2:09:46 and banged out some records during the season.
Wellesley staved off Needham, its next closest rival at Sectionals, with 386.5 points (full meet results). As one parent told me, the winning formula for Wellesley has been to have a few top performers plus a large group of really good swimmers and divers who earn points in most events.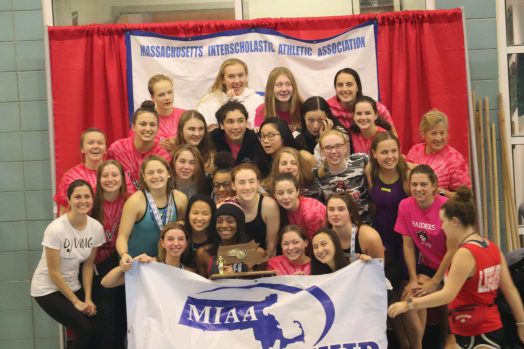 Wellesley's season wasn't hurt by one new luxury: A home pool at the Boston Sports Institute on Rte. 9. In the past, the team has shared the Babson College pool with Needham, often resulting in late night practice.
One tradition that the team didn't get to take part in this year was its annual overnight trip to Provincetown for an open water swim that raises money for charity and that is organized by a Wellesley High alum. Bad weather put the kibosh on that this time around.
But the team still found ways to bond outside the pool, and the girls have cheered each other on throughout the season. Let's hope the cheering will be extra loud on Sunday at MIT, as the Wellesley High team looks to improve on last season's second place showing at States.
The roster:
(Seniors)
Nellie Thompson – Capt.
Keleyia Rochelle – Capt.
Paige Buller – Capt.
Isabelle Boegholm Capt.
Sierra Sinclair
Abby Frank
Carolyn Zimmer
Sofia Puopolo – Diver
Katie Youngren – Manager
Lilly Patneaude
Maggie Wargo
Molly Jordan
Ainsley Keyes – Diver
Alice Cook
Allie Boucher
Amelia Cookson
Ariel Oppenheim
Bliss Vernon
Coco Martin
Elena Livingston
Georgia Spangler
Grace Chan
Graciela Meisner
Iris Xia
Juliette Connors
Katie Passanisi
Valerie Pasanisi
Lilianna Gross
Lily Biro
Sophie Biro
Lucy Allred
Mare Allred
Megan Gillooly – Diver
Naomi Boegholm
Patricia Landers – Diver
Sofia Cozza
Vaani Kapoor
More sports: We're exploring ways to boost our coverage of Wellesley sports, but we need your help. Please reach out to us attheswellesleyreport@gmail.com if you'd like to assist.