The grounds of the historic Wellesley Village Church (WVC) at 2 Central St. served as gathering place for a witness on Sunday, at which hundreds of demonstrators came together in solidarity. Representatives from multiple places of worship joined to share the sacred space along with WVC parishioners and clergy, residents, Wellesley police, and more.
The purpose of the interfaith and multi-congregational witness as stated by church leadership was to "unite in the conviction that black lives matter, that police brutality and racial injustice must end, and that we are called to pray and work for justice and joy for all people."
Hundreds of participants held signs, prayed, and simply lent their physical or spiritual presence to a the cause. There wasn't a prayer of social distancing for most attendees, but those who wished to keep six feet apart hung back along the edges and across the street.
There was music. There's always music at Wellesley Village Church. The church bells rang; a trio including saxophonist Gregory Groover Jr.; Max Ridley on bass; and Tyson Jackson on drums played a jazz selection; and the windows and doors of the church were thrown open so that the sounds of WVC's organist David Carrier could be heard.
Partners who attended the demonstration were the Congregational Church of Weston; Charles St. AME; St. Andrews Church; Wellesley Hills Congregational Church; Temple Beth Elohim; Dover UCC; Wellesley UU; St. John/St. Paul Roman Catholic Community; Wellesley Police Department; and Pilgrim Church in Sherborn; World of Wellesley.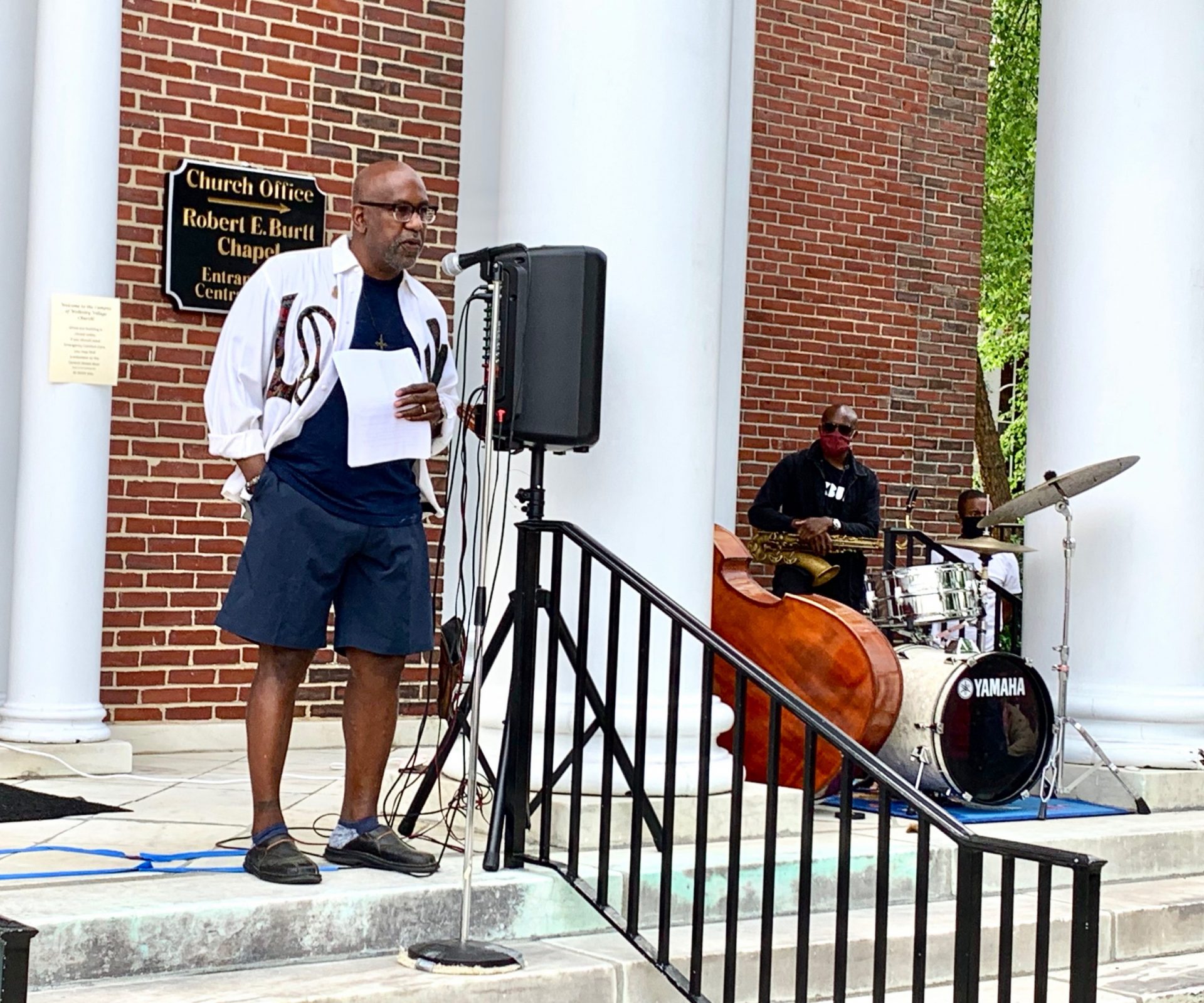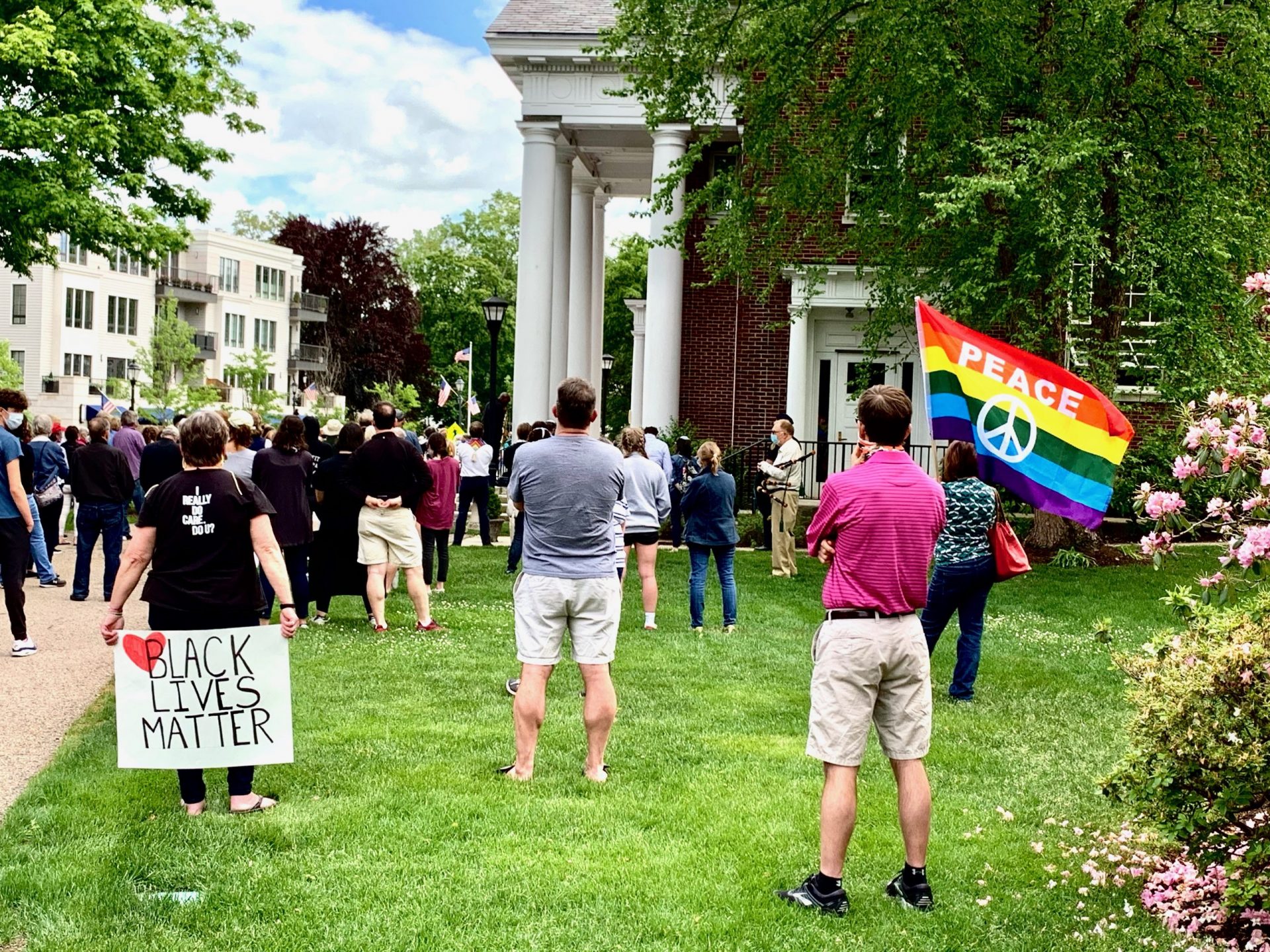 MORE:
Wellesley protests against white supremacy, police violence
Wellesley police chief issues statement of "disgusting behavior" of officers involved in George Floyd case
Wellesley unites against injustice
See Gary Arthur's speech in its entirety, including a drone video recording courtesy of Michael Tobin:
As I attempted to pen some notes last night, I pondered sharing my personal experience. I suffered the fact that my story as full of agony as it is, will not place your hearts where they should be right now. As our nation suffers, knowing the story of a few is far too limiting.
Out of the sky came an interruption. As the heavy rain fell on my widow, the message was to say it louder, than I have ever said it before. Help people listen, help people hear. I believe it to be from God, you will believe what you will.
There is an old Chinese saying which suggests "Hail in June means there is injustice in the streets". My Chinese speech is terrible, but it goes, "Lok yue fay seung" which translates "The sixth month flying snow". The thought is best conveyed in a book "The secret of the golden flower" A Chinese book of life. A gentleman named "Richard Wilhelm" is associated with the translation.
Hail in June means there is injustice in the streets is the colloquial wisdom of the saying. Originating from an ancient play, the story tells of a woman wrongfully being punished and the Gods sending snow out of season as proof of her innocence. Last night we had hail here in Wellesley and as far as my social network could take me, we had injustice in the streets.
This all encouraged me to share the bigger story, the louder story. The story of Black People in America from the end of slavery to why we are all here today. This story is bigger than me and you. It tells the tale of hatred, mental abuse, violence, spite, disregard, segregation, rape, unemployment, incarceration, and so many more horrid things. I pray it is the story which will give you the breath to utter three words. "BLACK LIVES MATTER".
Yes, all lives matter. However, the bias towards the endless dehumanization of Black people is what got us to come out today, simply to say, "BLACK LIVES MATTER"
Pause ………..
So, no good lesson comes without homework: Please go home and watch the documentary "Thirteenth". If you have seen it before, watch it again please and really, really, listen. Gather your family and encourage them regardless of age to watch it. If it is too brutal for their eyes well. Lesson one, that is what Black Children see from the moment they open their eyes. And, they continue to see it EVERY time they open their eyes. I do not know what to tell you! Your call on how you raise your children.
Juneteenth is around the corner, Friday June 19th . Again, if you do not know, look it up. It is one of the false starts towards freedom of Black people in America. That is when your homework is due, watch the documentary, try to understand the mixed emotions associated with the celebration of Juneteenth, and search out ways to speak YOUR truth. You must each hold yourselves individually accountable for what happens next. Here is a couple of ideas!
One of the things we say in the feeding people business is "The fish stinks from the head". The solution is to cut off the head, so it does not contaminate the rest of the fish. Metaphorically speaking of course. VOTE and help others register to vote. Vote very chance you get both for the candidates and the issues you believe will get us a more just nation for all.
If you cannot be the Change, "Fund the Change", support the many organizations doing good work. Vette them of course but "Fund Them". May I leave you with a poem?
A Garden Among the Flames … by an Arabic son. "IBN ARABI"
What wonder is this, a garden among the flames
My heart takes on every form,
a pasture for gazelles, a cloister for monks, the idols' temple
A . Ka'ba for the circling pilgrim,
The Torah's tables, and the Qur'an's pages
I follow the religion of love:
Whichever way this caravan turns, I turn.
This love is my religion,
This my Faith.
Thank you, and peace be unto you all, everyone, without judgement. Like the sun above us, and the air we inhale, Gods LOVE is for everyone.
Peace be unto you.