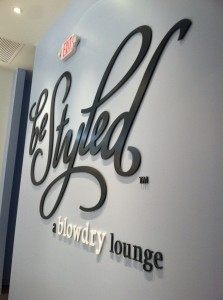 A new bar has opened up at 67 Central St. in Wellesley, and you don't have to order food when you go there. Be Styled, a professional hair drying salon, has blown into town.  Its mission — to eradicate frizz and bring bounciness to tresses at any stage of disobedience.
For $35 plus a recommended $10 tip (!), a stylist will wash and condition your hair, and then sit you down for a heart-to-heart about whether you should ultimately leave the salon looking sleek, soft, swirly or swanky.  I walked into the light and bright space, looked at the ten chairs, and wondered how close to the wide-open-to-all-of-the-Square seats they would place me in.  Because there is no privacy screen or frosted glass to protect you from the curious gazes of the rabble on the street.   By rabble I mean your ex, your boss, or your friend to whom you recently swore that you're not a spa kind of girl AT ALL.  Courage, good hair is worth a teensy bit of exhibitionism.
After a warm welcome at the reception desk, I was introduced to Shaylin.  She led me to the back of the store to be sudsed and conditioned, away from public gaze.  No problem there, I've taken such pampering for granted every six weeks at my usual hair cut since I was a teenager.  Next, she showed me a book with pictures of women with twirly hair, shiny hair, hair that had never seen a day of shame.  Now things were getting a little intense.  Should I go with swanky?  No, that wouldn't work.  I wasn't wearing enough makeup to pull off such fanciness.  Sleek?  Not on a humid day like that.  Why set myself up for disappointment and my stylist up for failure?  I didn't care what kind of blow drying ninja she was, sleek had to be off the table.  Eventually, Shaylin and I decided that swirly was the way to go for me.  Hair texture, weather, and general strands behavior  was taken into account, and off we went.
The next 30 minutes are kind of a blur.  The mirror is behind the stylee, so I couldn't spend my time figuring out how she was was doing it so I could duplicate the magic at home (stop snickering, it could happen).  27 Dresses was playing on the flat screen, subtitled, volume muted.  Shaylin and I chatted a little.  I checked my email because it seemed like the thing to do.  I blocked thoughts about my to-do list.  Then, voila, I was done.  Looking like an updated version of myself, which we will count as a positive thing,  I resisted the urge to do any independent fluffing or combing, and set out into the world.  No one looked at me funny.  My family did a collective double-take, in a good way.
Day 2: My hair still looked good enough to roll with, which is the point of it all.  I lifted my no-touch policy because I was brought up to believe that one must brush one's hair in the morning.  But I gave it a light hand.
Day 3:  OK, I could have continued on, but enough was enough.  I had work to do.  The hair went up in a ponytail, the baseball cap went on, and you can guess how it all ended.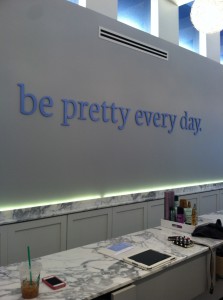 That's my story.  But will this service work for you?  All you really need to do is a quick  cost-benefit analysis combined with some planning to help you decide.  Just like the weather people do, map out your three-day forecast.  Do you envision yourself taking a yoga class, enjoying a run with friends, and feeding a toddler 9 meals and 6 snacks over the three-day period after your blow out? Take a pass.
But if the forecast includes dinner out, a charity event, and a get-together with friends over the next three days, with a lifesaver of a  babysitter in the mix for a good amount of that toddler feeding time,  then go ahead and Be Styled.
BACKGROUND: Be Styled hair salon blowing into Wellesley this summer