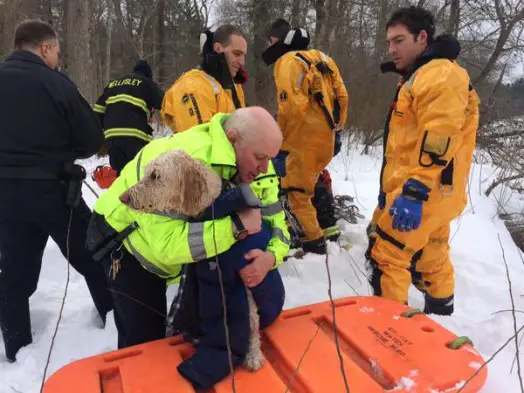 The Wellesley Fire and Police Departments rescued a cold and wet golden doodle called Cooper from the icy Charles River on Sunday.
The owner was walking the dog at Elm Bank Reservation on Saturday when Cooper bolted and disappeared, only to be spotted Sunday by someone who had seen a flyer posted by the owner. Firefighters hopped into the river from the Livingston Road area and brought the dog to safety.
Safety authorities in town have tried to spread the word previously about unsafe ice conditions at Elm Bank, posting signs and a video.
This is the third dog rescued by Wellesley fire/police over the past 2 winters. The December 2013 rescue of a golden retriever named Crosby earned firefighters a spot on the Ellen Degeneres TV show.
If for any reason you can't view the video below, click here for Wellesley Police YouTube Channel video.