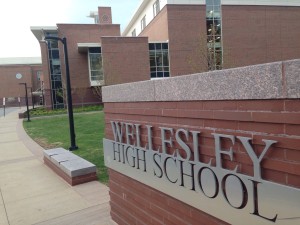 Wellelsey Public School officials late on Friday informed the community that a swastika was found drawn on the wall of the boys' bathroom at Wellesley High School and that the incident is under investigation.
This from Superintendent Dr. David Lussier:
Dear Members of the Wellesley Community,
Earlier today a swastika was found drawn on the wall in a boys' bathroom at Wellesley High School.  Dr. Chisum is in the process of investigating this incident and attached is the message he shared with WHS students, staff, and parents.
I am reaching out to our broader school community to both alert you to this news and to emphasize that symbols and messages of hate have no place in our schools and represent a clear violation of our Core Values.
Moments like these also provide an opportunity for our entire community to speak with a unified voice in rejecting anti-Semitism and racism, as well as to affirm those values we stand for such as Respect for Human Differences and Building and Maintaining Cooperative and Caring Relationships.  I ask that you consider conversations at home that reinforce these messages.  Dr. Chisum has some excellent suggestions in his letter on how to approach this topic.
Please let me know if you have any questions and thank you in advance for your support.  
David Lussier, Ed.D.
Principal Dr. Chisum's letter to the WHS community says in part, "This symbol of hate is a clear violation of our core values and we condemn its use on every level. I am frustrated and disappointed to be sharing this news with you. We have launched an investigation towards determining who might be responsible…We remain committed to making Wellesley High School as safe a place as we possibly can. All of us have a role in making that a reality and we must remain vigilant."
Wellesley High last fall investigated a swastika etched onto a computer monitor in the language lab.
Swastikas have been found at numerous local schools of late, from Dedham to Stoughton to Milton. Last week it was reported that racist graffiti was found in the Needham High School boys' bathroom. If Wellesley's incident is some sort of copycat nonsense, we wish whoever did this would find better role models to emulate and better things to do with their time.
MORE…
Wellesley stands united at solidarity gathering to combat racism