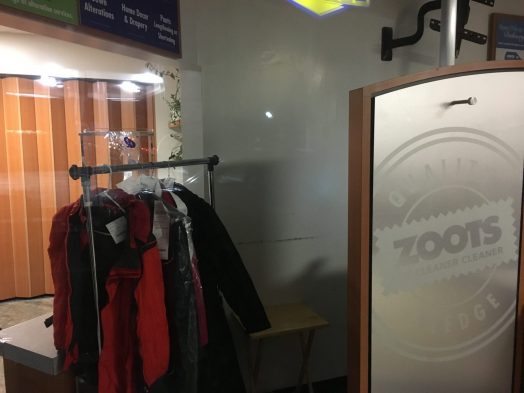 Dry cleaner Zoots, with 2 locations in Wellesley and 16 more across Massachusetts,  shut down abruptly on Friday, giving employees and customers little or no notice.
The Brockton-based chain's financial challenges stretch back more than a decade, when the business retrenched after shuttering all operations outside of New England. Now the company has filed for Chapter 7 bankruptcy (Fox Boston posted the Zoots bankruptcy filing documents, including this).
(Email us here with any info you'd like to share about this: [email protected] )
Employees and customers have taken to social media to share their anger and frustration at the way this all went down. A commenter on the Zoots Facebook page wrote that the "ATM" at the Zoots in Lower Falls in Wellesley was still dishing out clothes on Friday night (and the door was open to that section when I swung by at about 9pm).
What I also saw was this sign, reading "Closed due to an emergency, Sorry for the inconvenience!"
Indeed, especially if any of the items of clothing there belong to you.
The Lower Falls location also boasts this mixed message of a sign. Removing it obviously wasn't a priority for those who suddenly had lost their jobs.
The Zoots in Wellesley Hills across from the Whole Foods plaza, which includes a dry cleaner called Lapels, has an even more colorful sign that reads: "Closed | No pickups | No dropoffs | No information available!!!"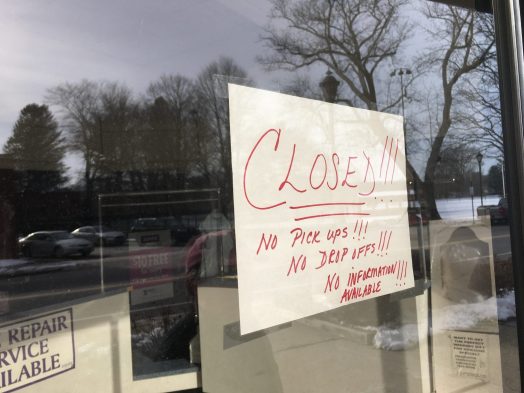 I ran into a man on Saturday who had shown up to pick up about 20 shirts and was dumbfounded about how a company could close up shop without getting customers their goods. A steady stream of customers stopped by the store over the weekend, disappointed to be cut off from their possessions and upset at the lack of professionalism on the company management's part even during this difficult financial situation.
Zoots posted the following on its Facebook page and in email to customers, urging patience while the company figures out how to get garments back to their owners.
Mr. & Mrs. Swellesley used Zoots for years, and we hope the best for our delivery person, Terri, who did an excellent job. Unfortunately, we found that Zoots wasn't doing such a good job of cleaning clothes (one time Mrs. Swellesley put pieces of masking tape onto a sweater to point out areas that needed special attention and the sweater came back with the tape and stains right where they were).
While Zoots and its purple vans will be missed by local customers, one thing is for sure: Wellesley remains filthy rich in dry cleaners. So plenty of alternatives, from Holly Cleaners to Anton's to Linden Cleaners, are at your service.