Let's get the political references out of the way right now. Wellesley Repertory Theatre's play "The Liar" isn't about that Liar, the Washington, DC one, although pains have been taken by many to force a comparison. No, this liar is from France — you know, one of those non-s**thole countries — and our liar is fun and flamboyant and outrageous in a rollicking way. He's the one your mother warned you about, all promises and wild times. Look out, ladies, he's also something of a gossip and a tramp-shamer. But somehow, you'll love him all the same.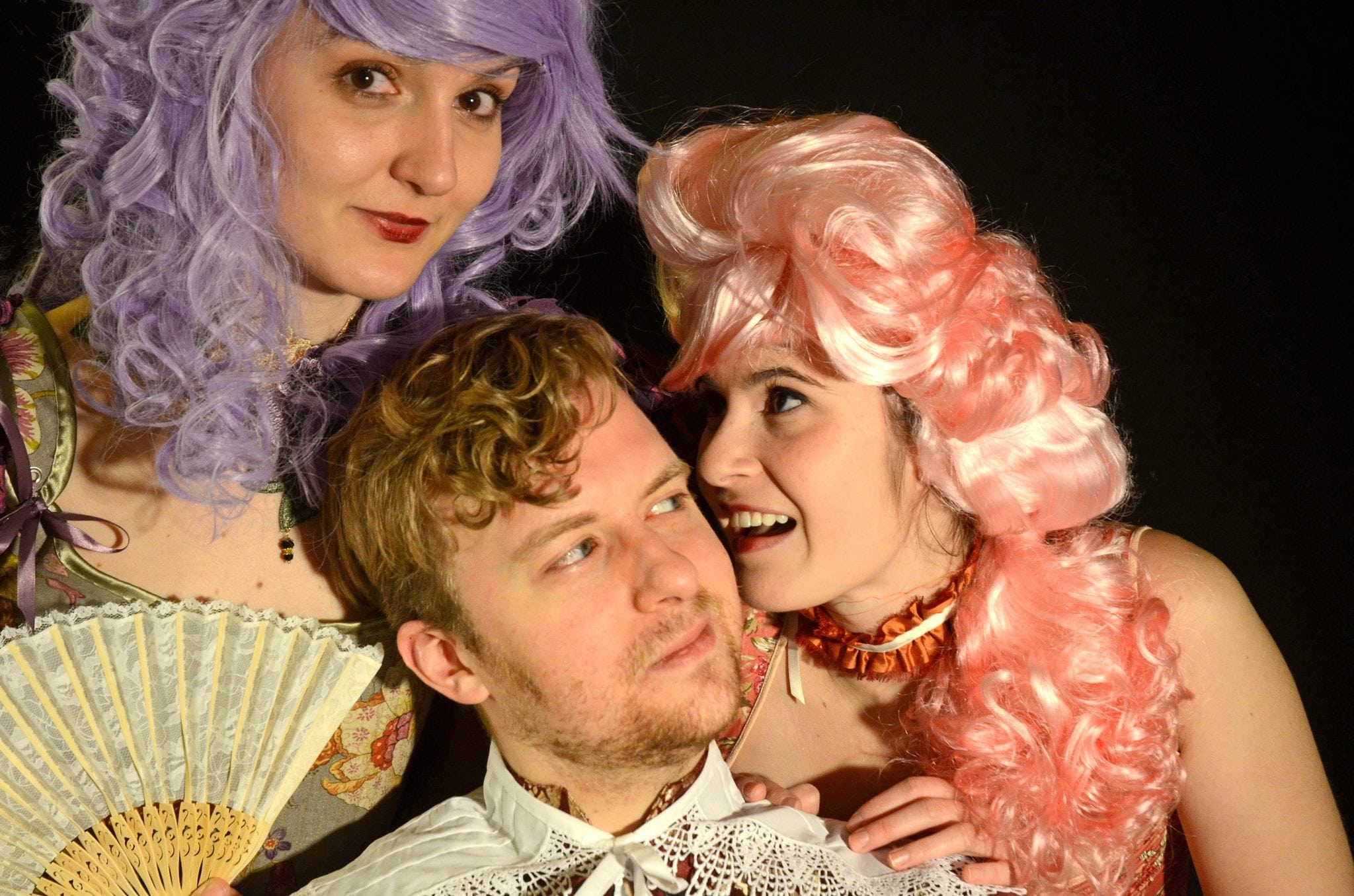 His name is Dorante, played with great physicality and madcap zaniness by Dan Prior, and the man can't tell the truth to save his own skin. It's his tragic flaw, if you will, but that's about as heavily Shakespearean as the play gets, multiple references to the Bard throughout notwithstanding. Remember, this is a comedy from start to finish. Arguments don't last forever, and hearts don't stay broken for long. When Dorante falls in love with Clarice, a later mistaken identity situation leads him to confuse her for her more reserved BFF Lucrece, played by Angela Bilkic with a pouty face under a purple bouffant up-do. Dorante, who not only is a liar but a fast talker, is up to the challenges put before him, which are largely of his own making. I hope the girls' friendship can survive this.
As a foil to Dorante, who can tell no truth, we have Dorante's servant Cliton, who can tell no lies. Played with goofy lovability by Sam Wharton, Cliton's got love life issues of his own. All I'll say is that it involves twins — both played by Caitlin Graham —  one a stern, dominatrix type and one a fun-loving flirt. Ooh- la-la, we must indeed be in France in this light comedy with dialogue spoken entirely in pentameter. Based on a 1643 play by French dramatist Pierre Corneille, it was translated and adapted by David Ives.
Clarice, Dorante's love interest delivers her all-pentameter lines in a Kim Kardashian accent with as much bounce and loudness as her hot-pink wig. With her bold, teasing ways, she mocks an admirer saying, "My contact lenses must have misted, because I didn't even know that you existed."
Alcippe, her jealous long-term beau, played with dolorous befuddlement by Charles Linshaw, comes to believe that his pal Dorante has been seeing his cupcake Clarice on the side. Dorante moves around the stage like a crowing cock, bragging about his last night's (unnamed) conquest and in fact comparing himself to Chanticleer, Chaucer's vain rooster who rules a barnyard harem. The bigger his lies become, the more physical his storytelling becomes. Still, the cowardly Alcippe doesn't deck his pal for spreading rumors and talking trash about his lady love. He just stews about it, until he later challenges Dorante to a duel. I hope the guys' friendship can survive this.
The duel scene was the best bit of choreography, and anyone who has ever seen a Bugs Bunny/Elmer Fudd cartoon will recognize the reference, right down to the big kiss on the nose. I'm not sure other than the actors whom to credit those crazy moves to, but just know it was appreciated. There was an Abbott and Costello part too, I think.
In between scenes, the go-go dancing and the music that makes the play sound like the set of The Dating Game was a cute way for the actors to bop around stage, moving around bits and pieces of Wellesley's own David Towlun's colorful and sparkly-mod sets.
Throughout all this, Dorante's dad, beautifully costumed by Chelsea Kerl in a flowing navy brocade coat trimmed with pearls and diamonds, is determined to marry him off in an effort to secure the joy of grandchildren. Played by John Kinsherf in a classic Shakespeare dad way, kind of like Juliet's father, but not quite so heartless.
I could forgive this play a lot of wackiness, but I found it weird that Dorante's dad believed all his son's lies. He actually bought any sort of nonsense his boy spouted saying, "He's youthful, but he's truthful." These two didn't seem like they were meeting up in France after a lifetime of estrangement, so surely his dad must have over the years caught his son, who we've been told is unable to tell the truth, in many lies. That to me was a weakness in the writing, even though there is an explanation of sorts at the end. Let's just say the tree doesn't move far from the apple.
Once the lovers get matched up properly and the family secrets are laid bare, it's all's well that ends well in this fun and frisky stage production.
With:
Angela Bilkic*
Danny Bolton*
Caitlin Graham*
John Kinsherf*
Charles Linshaw*
Ariela Nazar-Rosen
Dan Prior
Paul Michel Valley* (understudy)
Sam Wharton
Director Marta Rainer; Producing Artistic Director Nora Hussey; Stage Management Lindsay Garofalo*; Set Design/Production Management, David Towlun; Costume Design, Chelsea Kerl; Sound Design, George Cooke; Lighting Design, Bailey Costa; Vocal Coach, Paul Michael Valley; Photography, David Brooks Andrews; Flight Director, Ted Hewlett
* denotes member of Actor's Equity Union
Remaining performances, Wellesley College, Ruth Nagel Jones Theatre, Alumnae Hall:
Through Feb. 4, 2018
Evenings:  Thursdays, Fridays, & Saturdays @ 7pm
Matinees:  Saturdays & Sundays @ 2pm
________________
$20 general admission | $10 seniors and students
PAY WHAT YOU CAN on Thursdays!
To make a reservation call the Box Office @ 781-283-2000
The theatre is handicapped accessible,
Please email disabilityservices@wellesley.edu for information.