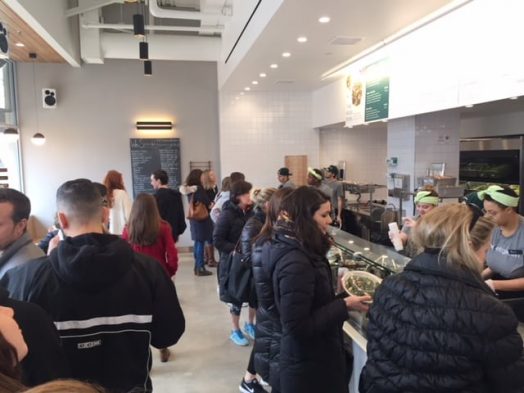 A slew of healthy eaters swarmed Sweetgreen's free sneak previews at Linden Square in Wellesley this week, and the restaurant chain's new location will unlock its doors to all comers for a grand opening on Saturday morning. All proceeds from the day will support Natick Organic Farm, one of Sweetgreen's local food partners.
One Swellesley correspondent on the scene at Thursday's sneak peek told us that "Sweetgreen was hopping and the quality of what was served seems quite high. The 'locally sourced' shoutout to local farmers on the blackboard certainly adds to the credibility of the establishment. And so, Wellesleyites will probably accept paying $10 and more for a salad!"
Sweetgreen is located in about a 1,700 sq. ft. space at 180 Linden St., the former home of home goods provider Bonsoir. Linden Square's developer has said that Sweetgreen is part of a broader set of changes planned for the shopping and eating area.
We'll be swinging by for an improper review in the next few days… Sweetgreen opens Saturday, Feb. 24 at 10:30am and is open until 9pm.