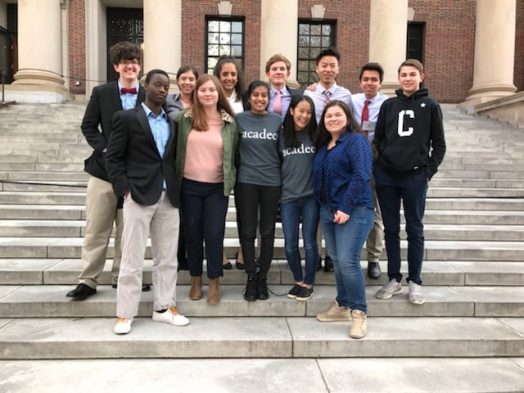 To succeed in state- and national-level academic decathlons, teams need to be diligent about studying but also versatile in terms of the subjects they master. Wellesley High School's team is both of those things, plus team members make sure they keep it fun, too, through countless visits to the local Lemon Thai restaurant, post-meet trips to get bubble tea, and team dinners in Boston.
This year's team earlier this month competed in the Massachusetts Academic Decathlon State Championship at Harvard University, and earned honors as the large school champion with a score of 39,278.8. I mean, how can you go wrong with a score like that? WHS finished third overall in the state, and that qualified the team for the online nationals, which takes place on April 20.
Academic Decathlon is a national and international competition that includes seven objective tests (math, literature, social science, art, music, science, and economics)  focused on a common theme. The 2017-2018 theme was Africa, and next season it will be the 1960's. In addition to the seven theme-based objective tests, there are also three subjective events (speech, essay, and interview). In order to beat teams from other schools and earn medals, decathletes must spend many hours reviewing lots of pages of college-level material, write and memorize a short speech, write an essay, and get interviewed. Competitions end with a game show-like Super Quiz relay, which is a fun, low-pressure event.
Wellesley Co-Captain Javier Lopez says, "Academic Decathlon is a lot of work, but it's very rewarding, and it teaches you very practical studying and speaking skills that I feel I will use in the future."
Wellesley's Acadec club began meeting a couple of days a week after school in the fall and those who did best during a scrimmage were chosen to be on the official competing team in three divisions (Honors, Scholastic and Varsity). Members note that you don't need a certain GPA to be a team member, and that alternates are chosen to attend meets as well.
Lopez, along with co-captains Sonia Subramaniam and Olivia Bogiages, all received individual awards at the recent state meet, and other team members also put up good scores. WHS will have a strong core heading into next season, but encourages those interested in joining to do so, as the team already has its sights set on qualifying for the 2018-2019 nationals in Minnesota.
Students interested in learning more about the club should feel free to reach out to any of the captains (Sonia Subramaniam – [email protected], Javier Lopez – [email protected], or Olivia Bogiages – [email protected]). WHS teacher Ryan Liacos serves as faculty advisor and coach for the team.