This week's standout Wellesley Recycling & Disposal Facility find: An old-school Estey reed pump organ.
Swellesley reader Hilary Prus shared this photo of the organ, which didn't even make it to the give-and-take area. Instead, someone dropped it at the bulky waste section.
Estey Organs were famously made in Brattleboro, Vt., from the mid-1800s until the mid-1900s, and a museum celebrates them to this day.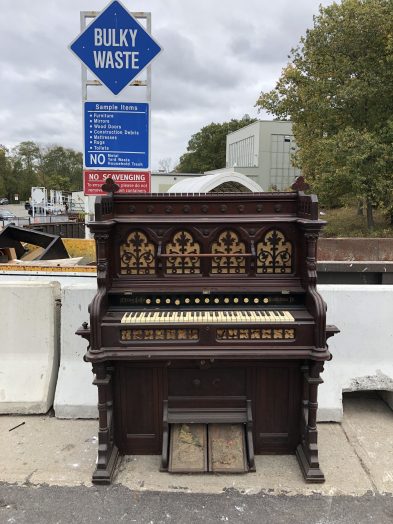 There must be a story behind the dropping off of this item and the picking up of the organ, assuming someone did. Please come forward and share your story if so: theswellesleyreport@gmail.com
Feel free to educate on this item as well.
While not a real musical sort, Mr. Swellesley does own an acoustic Hondo guitar scavenged on trash night in Natick. And back in the day, my brothers and I may or may not have cranked up the electronic organ in our house to play a sped-up bossa nova beat at full volume to spook the paper girl and others who might approach our front door.
Meanwhile, the donation of this sort of organ does raise the wild scenario of the give-and-take area branching out into the other kind of organ donation.
More: Creative spirit recycled at Wellesley Dump Art day
Support Swellesley: Here's how to Advertise and/or Donate to support our independent journalism venture.