Our roundup of the latest Wellesley, Mass., business news:
Bach to Rock instrument petting zoo at Linden Square
Bach to Rock is holding a series of free Friday instrument petting zoo events on Aug 5, 12 & 26. Each event will take place at 1pm in the Linden Square Courtyard.
The music school, which opened in Wellesley in 2016 and is now under new ownership, provides lessons in guitar, piano, drums, voice, violin, trumpet, and more for students of all ages and skill levels.
Fleuri Designs makes a move
Fleuri Designs has moved across the street in Linden Square, from the Roche Bros. side to the its new location next to Tatte Bakery. Owner Zoë Forbes has kept the store's signature clean and beautiful Fleuri aesthetic with plenty of faux florals and plants, gifts, décor items, and chic home accent pieces. New to this location: occasional furniture, and a refrigerated case for fresh flowers. Zoë and her team can now let loose and make gorgeous fresh floral arrangements, something they couldn't do across the street due to a non-compete clause with the Roche Bros. floral department. But non-compete clauses can't cross the street, which is valuable information you heard here first.
Fleuri also has a location on Beacon Hill at 98 Charles St.
Restaurant visit: An outdoor dinner at Alta Strada
It's hard to believe that Alta Strada in Wellesley Square has been serving delicious Italian classics for 15 years, but here we are. The popular local spot is owned by Michael Schlow, who runs four additional Alta Stradas as well as the Hermitage Inn in West Dover, Vermont; the Tico in Washington, DC; Monti Roman Pizzeria in Boston; and other restaurants. Many publications (Esquire, Food & Wine, Conde Nast Traveler) have joined The Swellesley Report in writing up aspects of the busy chef's culinary empire.
The outdoor patio with its cheerful red umbrellas beckoned us on a warm night, the kind when ordering off the creative cocktail menu seems mandatory; We tried out the spot's namesake Alta Strada, a vodka, pomegranate, and blood 0range mix served in a martini glass, a fun and summery way to start out the meal. In addition to about 10 specialty cocktails, there are several beer choices (including Peroni, an Italian beer), a few mocktails, and a wine list with many well-priced wines by the glass.
Crispy artichoke hearts with a light-tasting pesto bianco made with walnuts, garlic, and ricotta, and pickled fresno chiles served alongside the dish was an amazing and flavorful appetizer ($15), which we highly recommend. The garlicky sauce was the perfect foil to the crispy, but not greasy, artichokes. We went all in with the ricotta theme and also tried out the ricotta spread with crostini appetizer($14), a light and delicately flavored choice.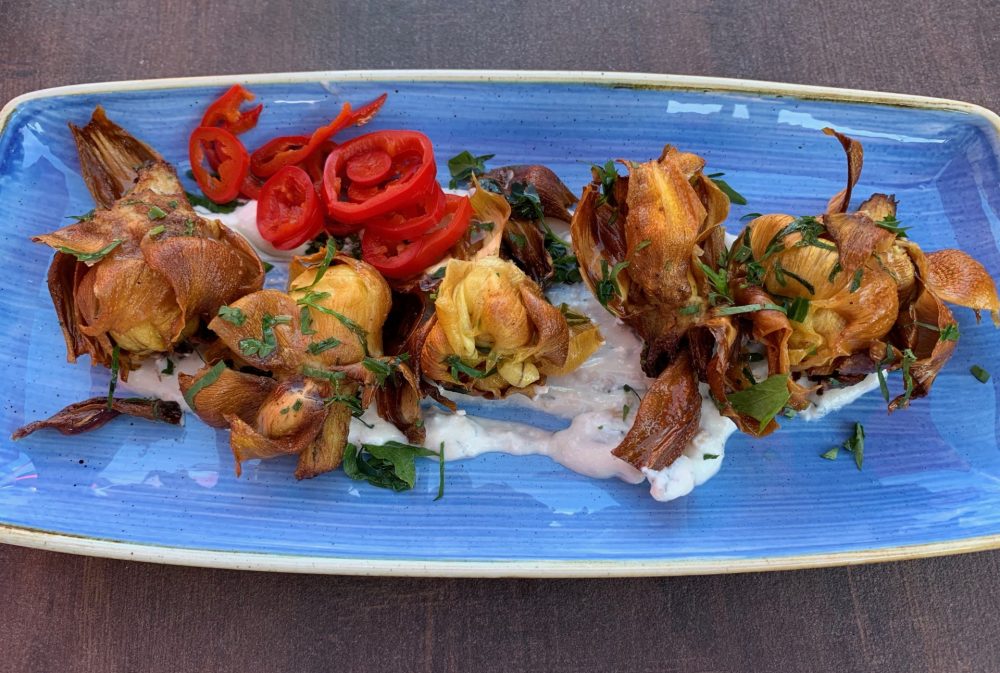 Moving along, the tomato-based pasta Vongole served with five fresh, briny and sweet manilla clams, cherry tomatoes, lemon and parsley ($28) struck the right note, although we found ourselves wishing for more clams. The kitchen staff honors special orders and didn't blink when one of us ordered cheese ravioli ($24) without the tomato sauce. Unhurried servers can guide diners to vegetarian, vegan, and gluten-free menu options. Other choices that were popular among diners around us that night were the meatballs with whipped ricotta and spicy tomato basil sauce appetizer; the pasta lune filled with mushrooms, truffles, and parmigiano; and the garlic bread (which is so in demand that it never goes off the menu).
Plenty of parking either on-street or in the parking lot is available at this long-time Wellesley spot. Note: we went on a Tuesday night and got in without reservations, but within a half hour of our arrival, every outdoor table was full. Tuesday night seems like a big go-out-to-eat night in Wellesley these days. You know how it is. Go to the Cape house Thursday-Sunday and eat at your favorite spots there; come home and actually make dinner on Monday, just to keep your own kitchen in fighting form; then by Tuesday, remembering all those dishes and pots and pans from Monday, who wants to make anything besides reservations?
Don't ask about Wednesdays. They're kind of a mystery to me in Wellesley.
RESTAURANT: Alta Strada
LOCATION: 92 Central St, Wellesley, MA 02482
---
More: