The latest Wellesley, Mass., business news:
Sun Life shows off redesigned office
Benefits company Sun Life U.S. this week made a big deal about its redesigned office in Wellesley that employees may or may not work out of—and the company says that's OK. The 94,000 sq. ft. office space at the Park 9 (soon to be Wellesley Gateway South) complex at the intersection of Rtes. 9 and 95 even got an old-fashioned ribbon cutting. The facility can accommodate up to about 900 employees.
"The office also offers spaces that provide the comforts of home, including well equipped kitchens, and areas resembling chic living rooms to relax or socialize," Sun Life says in its press release. Treadmill desk offices, locker rooms for those who come to work sweaty, a prayer/meditation room, and more are offered. Lots of sustainability features, too.
Sun Life U.S. President Dan Fishbein for at least 2 years has been trotting out the line: "We want our office to be a magnet, not a mandate."
The Wellesley space is one of seven major offices supporting Sun Life U.S.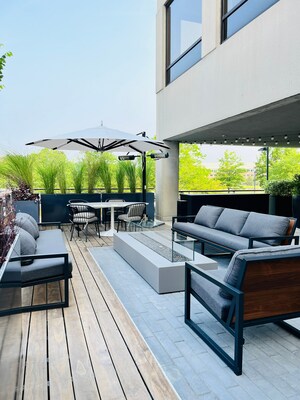 ---
Center for Family Empowerment opens
A counseling and therapy firm dubbed the Center for Family Empowerment (it had some challenges getting all that on its sign during Design Review Board proceedings….) has opened at 462 Washington St., in the same building housing others, including tutoring and test prep firm Prepped and Polished.
The Wellesley office expands the business beyond its other location in Jenkintown, Penn.
The firm serves kids, teens, and adults, offers workshops and group support as well.
We reached out to the center recently to learn more about its move to Wellesley, and will update this post if we hear more.
---
New head of school at Charles River School
Charles River School in Dover welcomes Gabe Burnstein as Head of School. Burnstein comes to CRS via Providence, where since 2018 he was the middle school director at The Gordon School. He arrived at Gordon in 2008 as a faculty member in humanities and served as an 8th grade advisor. During his tenure as middle school director in 2018 he hired and supervised faculty, oversaw student schedules and support systems, and helped the school weather the COVID pandemic. In addition, he has presented at numerous workshops and conferences and served as a consultant to schools across the country on policies and teaching practices related to diversity, equity, and belonging.
"I am honored to serve as Head of School," said Burnstein. "CRS is a place that does childhood right. The whole world is trying to speed up childhood, and with our preK-8 model, childhood lasts longer at CRS, but leadership starts sooner. Our oldest students have the skills and the capacity to solve problems they have never seen before. And they still have time to play during recess."
Burnstein earned a bachelor's degree in English and Film at The University of Michigan. He went on to earn his Master's degree in Independent School Leadership at Teachers College, Columbia University. He began his career at Campbell Hall School in California.
---