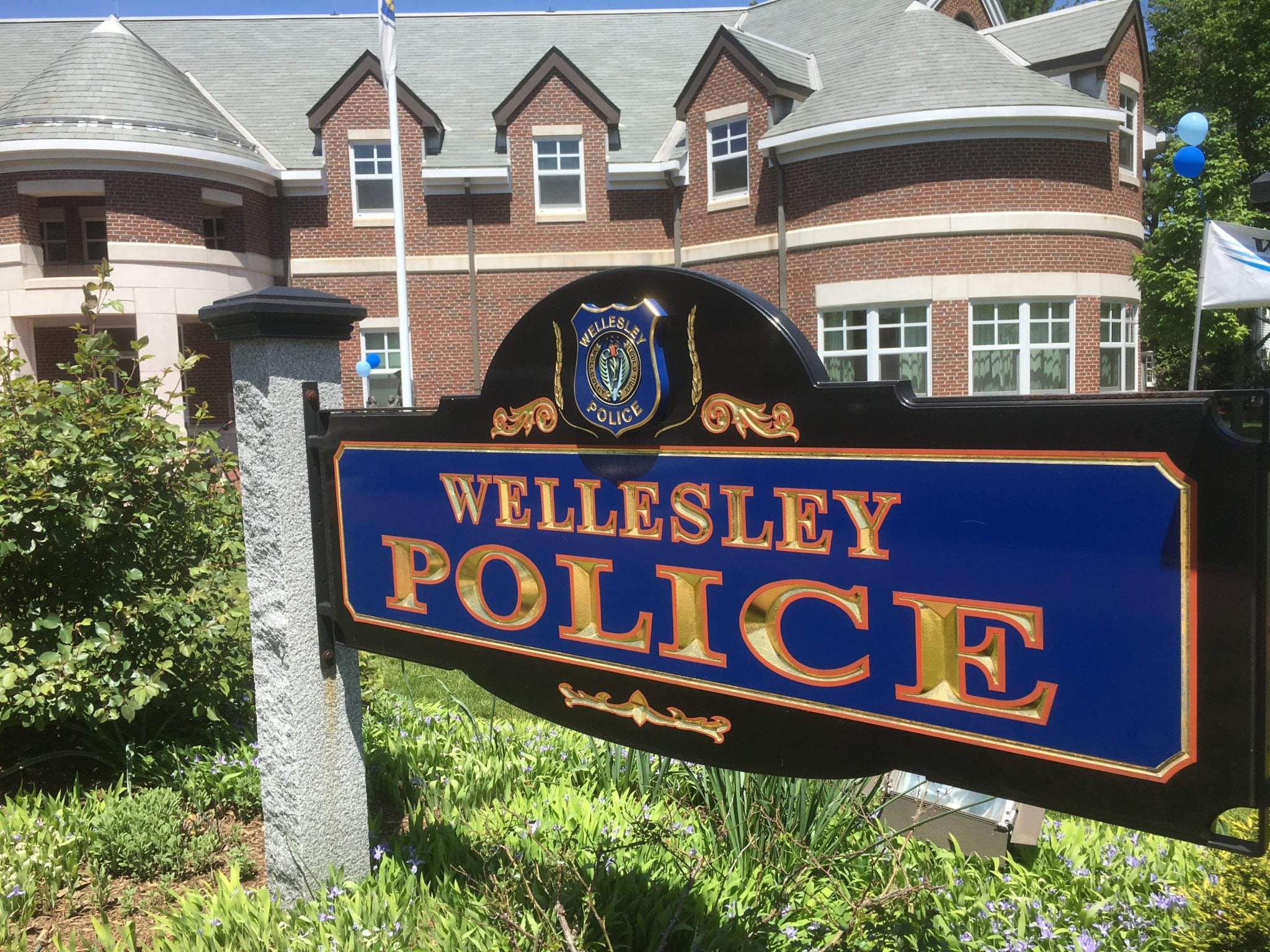 A rundown of Wellesley Police Department arrest and incident logs. Names have been stripped out by us.
May 21-27: Suspected Shih Tzu puppy scam; contractor unwelcome; spare key mystery
May 14-20: Make-up artist sniffs out a scam; briefly missing children; still missing bike and cars
May 6-13: Contractor falls; cars damaged; Chinese government calling?
April 30-May 5: Dog bites mailman; dog poop problem; road rage; parking lot "spat"
April 23-29: Stuck in the cemetery mud; assault reported at Whole Foods parking lot; passport gets trashed, and so does a youth
April 16-22: Auburn St. car break-ins, retaliatory noise, employee accused of swearing
April 9-15: Threat reads "you can let us go but we can let you go too," Nintendo Switch left on train, embarrassing Bitcoin scam is back
April 2-8: A mysterious "special license," white powder in the mail, beware the blue hoodie & a complicated head-on crash
March 26-April 1: Backyard sculpture damaged; hey wait, that's my place on Craigslist; roof party!
March 19-25: Cable wires cut; prescription drugs missing after open house; more & more ID theft
March 11-18: Rogue plower, flurry of ID thefts, worker alleged to have swiped stuff
March 5-11: Whole Foods beer theft; fiancee has some explaining to do; pedestrian struck
Feb. 26-March 4: Dating website serves up mismatch, Amazon packages in the woods, tough week for deer
Feb. 19-25: Mystery purchases, lost elderly people, money missing from desk drawer
Feb. 12-18: Narcan administered; unemployment benefits nearly stolen; parking lot & locker room theft
Feb. 5-11: Youths riding scooters in hallways; truck wasn't stolen after all; cabbie accuses teens of fare evasion
Jan 29.-Feb. 4: Wellesley Police log: Home invasion and break-ins reported; the old desperate grandson scam; business threatened
Jan. 22-28: Wellesley Police log: Snow blower, iPhone X's & wedding/engagement rings go missing
Jan. 15-21: Wellesley Police log: Fight breaks out at police station; suspicious real estate photos; laptop goes missing at high school
Jan. 8-14: Wellesley Police log: Diaper duty; bathroom beer; dog needs to control its owner
Jan. 1-7: Wellesley Police log: Woman reportedly dragged from car; patrolling Cliff Road; jewelry & cash missing
Dec. 25-31: Wellesley Police log: Ceiling fan fury, fast times on Rte. 9, $14K in jewelry missing
Dec. 11-17: Wellesley Police log: Rogue roofing; locker room theft; laptop not swiped after all
Dec. 4-10: Wellesley Police log: Worker falls 20 feet; $400 reported missing from Wellesley High locker room; $30K bracelet missing
Nov. 27-Dec. 3: Wellesley Police log: Neighbors dispute things being dropped on floor; child knocked out at playground; thefts at Wellesley High
Nov. 20-26: Wellesley Police log: construction equipment goes missing; unwanted texts; Grove Street suspicions
Nov. 6-12: Wellesley Police log: Giving thanks for no arrests
Oct. 30-Nov. 5: Wellesley Police log: rooftop wallet, going to take you down, a stolen safe
Oct. 23-29: Wellesley Police log: car door slammer, speedy dump truck, gun alarm
Oct. 16-22: Wellesley Police log: poop problem; more Meth; signature solicitor dumped
Oct. 9-15: Wellesley Police log: Crystal Meth confirmed; supermarket solicitors; Narcan administered
Oct. 2-8: Wellesley police log: A mysterious sleepyhead; dogs still biting; garden lights go dark
Sept. 25-Oct. 1: Wellesley Police log: Dogs in a biting mood; bank robbery at BoA; parking spot dispute
Sept. 18-24: Wellesley Police log: Call the forensic anthropologist; BB gun incidents; fleeing an ambulance
Sept. 11-17: Wellesley Police log: Stolen rabbit trap; lawn irrigation gone wild: pedestrian hit or not?
Sept. 4-10: Wellesley Police log: Airbnb party, property line dispute, trespassing kids
Aug. 28-Sept. 3:  Wellesley Police log: Alleged knife-wielding road rager; Vandals strike dump, tennis court; juice theft
Aug. 21-27: Wellesley Police log: Case of the missing gas cap, loads of fraud, unneighborly tree
Aug. 14-20: Wellesley police log: Driving off with gas pump nozzle, driving off with wallet atop car
Aug. 7-13: Dump fight; dumpster fire; playground fire
July 31-Aug. 6: Roche Bros. targeted by alleged thieves; dangerous driving on Rte. 9; jewelry lost & found
July 24-30: Wellesley Police log: erratic driver thought she was in New Hampshire; an axe goes missing
July 17-23: Wellesley Police Log: Fireworks & beer a bad combo; early construction work angers neighbor; ex-employees have Wellesley residents on edge
July 10-16: Wellesley police log (7/10/17-7/16/17): email bomb threat, online scam, firearm storage