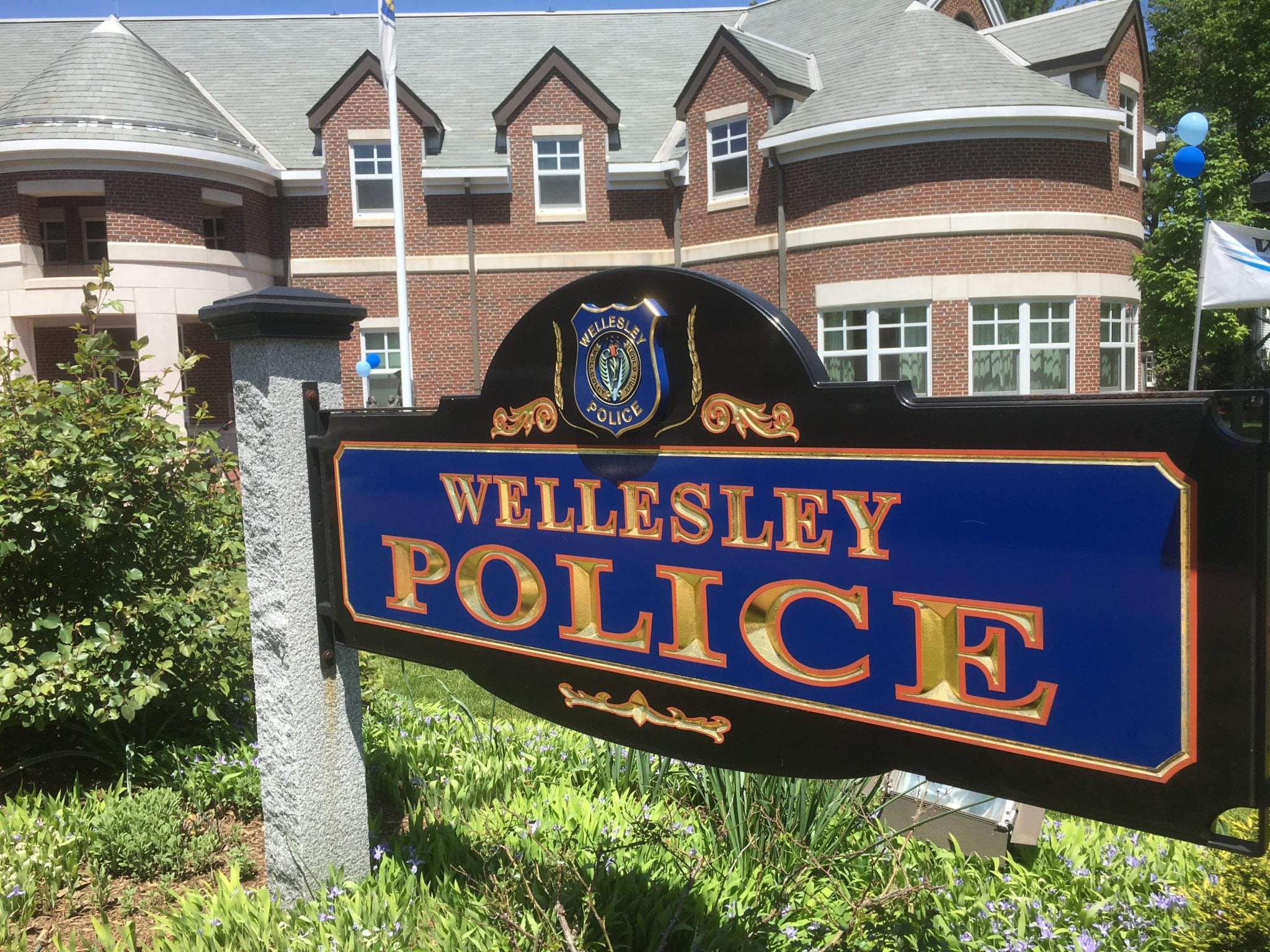 A rundown of Wellesley Police Department arrest and incident logs. Names have been stripped out by us.
Wellesley (and surrounding areas) police and fire scanner: Have a listen.
Subscribe to The Swellesley Report's daily email
2021
2020
Dec. 21-27: Churchgoer yells about COVID-19 rules; dog owners feud at Longfellow Pond; attempted break-in thwarted; shelf hits customer at grocery store
Dec. 14-20: Devastating house fire; backyard pool becomes public skating rink; shoplifting from a store & a car
Dec. 7-13:Close call for officer on Rte. 9; man cites dog for causing Mom to fall, break hip
Nov. 30-Dec. 6: Phantom arts and crafts store; breaking & entering is all in the family
Nov. 23-29: Alleged OUI on Washington St.; $20K silver set missing; business keys gone; rocks smash window; dog bites dog
Nov. 16-21: gamer says 'He was going to send numerous pizzas to my house'; finally fessing up to gold bracelet theft
Nov. 11-14: Scammer tries to blackmail online dater; woman swindled out of $8K; Pine Plain Rd. break-in attempt reported
Nov. 3-8: Car thefts, break-ins galore as crooks swipe purses, pickleball paddles & key fobs
Oct. 26-29: Customer won't have temp taken; watch face scratched; bad drivers
Oct. 19-26: Victim loses $95K in IRS scam; man's phone is gone when he wakes up; fraudulent unemployment claims abound
Oct. 12-17: Spate of breaking-and-enterings, mental health calls, fraudulent unemployment claims
Oct. 5-11: security cameras shenanigans; dog owners dispute vet bill; police support sign swiped; tennis court serves up sick skunk
Sept. 28-Oct. 4: Neighbors argue over trees; golf cart joy ride; don't go through car wash with a bike rack
Sept. 22-27: Man hit in head by backhoe bucket; spate of overnight vehicle break-ins; moped operator taken into custody
Sept. 14-20: Driver attempts to give officer $20 instead of license; yelling accusations; mental health concerns
Sept. 7-13: Gun in purse; drowning at Longfellow; wallet found at Hunnewell; driving with earbuds; housecleaner and dog disputes
Aug. 24-30: Alleged CVS thieves flee in BMW; $800 stolen from car; from 'hellos' to car vandalism
Aug. 16-23: $60K scam, sword sheath twirler, license plate twins, garage door opener gone
Aug. 10-16: Land Rover hits house; neighbor yells 'No mower!'; $10,837 Rolex gone
Aug. 3-8: Earbuds disappearing; flower beds wrecked; occupants of stolen car flee
July 17-31: Missing $4K Chanel bag & $50 air conditioner; mess of alleged traffic violations
July 14-19:  video captures alleged Jaguar theft; man falls off 24-foot-high ladder
July 5-12: Property vandalized; illegal dumping at sports center; car windows smashed
June 30-July 5: Screaming women taken to hospital; homeowners away, party on; fireworks confiscated
June 22-28: Alleged OUI with child in car; possible gas scam; thrown rake, new asphalt lead to fight; a threatening egg
June 15-21:  Nonstop yelling leads to arrests; BLM sign defaced; fraud cases pile up; house egged
June 8-13:  Roads getting wild; spate of car break-ins; fake sneakers
June 1-5: Driver allegedly packing many pills; Sprague School debris; fraud calls pour in
May 18-23: Arrests back in fashion; false unemployment claims target residents
May 11-17: Neighbor disputes include allegations of driving into a mulch pile, cutting down a flower
April 24-May 3: Boredom made me do it; Air Jordan scam; designer purses missing
April 21-25: Deadly car crash; neighbors spat; off-leash dog reported
April 14-17: Road rage reported; woman scammed online; fishy Craigslist transaction
April 7-13: not playing by COVID-19 rules; MLP dumpster diving; vandal alleges life ruined
March 30-April 4: Drinking leads to arrests; scam about Texas and coke; Reeds Pond vandalized
March 23-28: Homeless person in shed; hockey pucks a nightmare for neighbor; Whole Foods parking lot pillars damaged; no arrests
March 18-20: Sick raccoon euthanized; cops find missing people
March 9-12:  Social media scam; smashed car window; presence of cocaine
March 2-7: Gold necklace missing; Sprague field fight; driver of stolen car stopped
Feb. 24-28: Graffiti inspired by Hunnewell oak takedown; salon spat; teens accused of swiping soda
Feb. 17-23: Tesla driver splits utility pole; scooters after sunset; girl says she was followed; yelling at CVS; painter alleges revenge
Feb. 3-9: Reported robbery stems from overheard joke; alleged OUI driver passed out with foot on brake
Jan. 27-Feb. 2: Credit card allegedly swiped at doc's office, used at salon; attempted baby formula theft reported
Jan. 20-26: Dispute over Grandma's stuff; Yelling at UPS store; cops investigate "Hey buddy" van
Jan. 13-19: Wellesley Police log for the week of Jan. 13-19
Jan. 6-10: Break-ins, alleged OUI, check fishing suspected, taxi driver gets paid
Jan. 1-5: 2020 gets off to quiet start aside from a ding-dong ditch
2019
Dec. 23-29: Alleged DUIs, Rolex watch submarined, cut-off body parts in texts
Dec. 16-21: Bobcat driver allegedly throws punches, package deliverer claims dog bite, ice slip; cops on the spot for dangerous drivers
Dec. 9-15: Boxer shorts, interior decorating & a passport are clues in alleged breaking & entering
Dec, 2-7: Power air fryer is hot; house cleaner, trash collectors under suspicion; DUI alleged on Upwey
Nov. 25-Dec. 1: Alleged road rager asks 'You trying to get shot?'; 'Any Functioning Adult 2020' sign swiped
Nov. 17-24: Fake clergy scam; new shrubs ripped out
Nov. 11-16: Pot busts; 18K gold & diamond jewelry disappears; mystery contractor; license plates missing
Nov. 4-10: Counterfeit clothes for sale near country club; employees spat over tips; texting while driving leads to arrest
Oct. 28-Nov. 3: Bra stuffer, car kicker, and Babson students actually took a cab instead of Uber?
Oct. 21-27: Business owner cites run-around; wave of check fraud
Oct. 15-19: Mail (theft) bonding; parking lot keying; cyclist struck; tree trashed
Oct. 7-11: $15K lottery scam; fake $100; drivers blame metal plates for tire damage; another bike swiped, but recovered
Sept. 30-Oct. 6: Bicycle thefts aplenty; Qdoba disturbance; man in black seen entering others' vehicles
Sept. 26-29: On lookout for a hot antique Pepsi cooler; man says car missed him, driver hit him; U-Haul van swerves into trouble
Sept. 16-19: Scammers, burglars step up their games; woman seeks to protect dog from mail
Sept. 9-15: Purse allegedly snatched at church, pricey bike swiped, road rage reported on Linden St.
Sept. 2-8: On the hunt for $6,500 rose gold bracelet, an EZ-Pass transponder & $5 in loose change
Aug. 26-Sept. 1:Aggressive driver allegedly posed as cop; delivery man accused of making sexual request; man falls 6 feet from ladder
Aug. 19-25: Wellesley Police log: Man demands female realtor, unpacks large suitcase; RDF volunteer cites harassment; motorcycle missing
Aug. 12-18: Vandal leaves mark at Morses Pond; random query dooms alleged thief
July 29-Aug. 3: Library patrons creeped out; suspicious apartment listing; kid accidentally locked in car
July 9-29: Middle School grafitti; inspection sticker crackdown; diamond falls out of ring
July 1-14:  No idling here—couple busted for parking lot sex; golf clubs missing; OUIs alleged; unwanted anti-fossil fuel signs
June 24-29:  Gluey white substance dumped; woman scammed out of $9,500; going 83 in a 50MPH zone
June 17-23: Hot tub party gets loud; Cape Cod house buyer regrets wiring $74K to NJ
June 10-16: Mystery book appears at homes; threatening messages; dog struck; Central Street shoplifting
June 2-9: Amazon driver says guy broke mirror off truck; take my antique guns, please
May 27-June 1: Whitman teacher from Wellesley arrested; check forging arrest; kid bitten by dog at pond
May 20-26: "handle it like men"; Linden Street fire; taking packages hostage
May 12-19: Wellesley fight club; VW driver keeps on going; laptops stolen; bye-bye BMW
April 29-May 11: Trumpet, bike & Air Pods missing; fake $100; ransomware attack; elderly woman on tracks
April 22-28: Handgun, ammo, pot & brass knuckles found during traffic stops; bike & truck collide; gas theft reported
April 15-21: Roommate's boyfriend accused of swiping car, credit cards; leather jacket not on the menu; contractors spat
April 8-14: Residents with memory issues keeping cops busy; vehicle owners making things too easy for thieves
April 1-7: Gym patron just wanted to watch; bad luck about that mirror; white powdery substance found
March 25-31: Saturday night eggings, scarily sleepy taxi passenger, contractor cites harassment
March 18-24: Kid gets his bike back, shady bank shenanigans, reminder to move over for emergency vehicles
March 11-17: Gas station drug bust, $70,000 in diamond jewelry lost or pilfered, stolen R.I. car found in town
March 4-10: OUIs, missing disability placard, basketball hoop purchase slam dunked
Feb. 25-March 9 Canada Goose coat reported stolen at Wellesley High; local business reports $26K-plus in fraudulent checks; man struck by vehicle in Wellesley Square
Feb. 18-24: Suspect in police officer assault held without bail; diamond ring reported missing; CVS drive thru gets tense
Feb. 11-17: Contractor falls 10 feet, motorist speeds away from cop & racks up charges, tire sensors cut on vehicle
Feb. 4-10: Kids buy booze via social media connection; road rage; dog struck; hit-and-run
Jan. 28-Feb. 3: Gun left in office building bathroom; contractor complaints; alleged OUIs
Jan. 21-27: Town bylaw violation issued for pot in a car; lots of driver's license/registration issues
Jan. 14-20: $11K Cartier bracelet missing, phony $20s at Whole Foods, Jeep driver in a tight spot
Jan. 7-13: Ambulance chaser, Route 9 racers, thumb tip severed in saw accident
Dec. 31-Jan. 6: Thief tricks bank in $20K ATM card scam; rash of lost wallets; road rage in the Square
2018
Dec. 24-30: CVS employee reports shoplifters in makeup aisle; credit cards & cash swiped from cars
Dec. 17-23: Narcan dispensed to train passenger; head-on collision on Linden Street; DPW copper swiped
Dec. 10-16: Grenade dug up on Cedar St.; trashy behavior by pickup truck driver
Dec. 3-9: Erratic driver acknowledges heroin use; Grinch cuts Christmas light cords; wallet stolen in supermarket fruit section
Nov. 26-Dec.2: Women's mail sent to Texas; missing child found safe in bedroom under blanket; packages go missing
Nov. 19-25: Gretta Luxe robbed; cops uncovers stolen clothes in car; knife incident gets restaurant worker axed
Nov. 12-18: Scammer drops President Trump's name; brass knuckles found on driver; a dump dispute
Nov. 5-11: Red Sox World Series rings lost & found; cops pull over impaired drivers; suspicious letter left on vehicle
Oct. 29-4: Temple receives suspicious letter; political signs swiped; supermarket employee's purse stolen
Oct. 22-28: Runner loses $7K bracelet, construction team claims neighbor rage, dirty politics, library disturbance
Oct. 15-22: Revved up Camaro, missing front tire on Audi keep cops busy; dog dispute at Centennial Reservation
Oct. 8-14: Driver waving a blue-and-white baseball bat is called out; drunk contractor sent home; youths busted for allegedly breaking into school
Oct. 1-7: Neighbors bicker, scaffolding collapses, car break-ins all over, cops help a homeless musician
Sept. 24-30: Strange doings on Linden Street, dog takes fetch too seriously, AC unit appears out of nowhere
Sept: 17-23: Private detective gets confused; rogue tree company; Narcan dispensed
Sept. 10-16: Troublesome cartoon figure; family needs to bring in lawyers; tons of fraud
Sept. 3-9: Scooter rider proves temporarily elusive; bikes stolen; just an insurance inspector
Aug. 27-Sept. 2: American flag reported stolen; driver takes no-hands approach; watch missing after cable installation
Aug. 20-26: Drivers keep cops busy; house egging investigated
Aug. 13-18: Cyclist loses wheels in Wellesley dump give-and-take mistake?
Aug. 6-12: "unpleasant" bank encounter, gas money request, hoop project no slam dunk
July 30-Aug. 5: Seeing too much of this neighbor, rocky road rage & keep your trash to yourself
July 23-29: Office manager raises suspicions, ding-dong-ditch-foodfight, realtor gets badmouthed, going to great heights for copper wire
July 16-22: Envelope of cash a big letdown; formulaic theft reported at Roche Bros.
July 2-8:  Thefts reported at Morses Pond, Wellesley Free Library, Wellesley Country Club
June 25-July 1: DIY speed bump on Oakland Circle; jewelry missing & found; throwing stones
June 11-18: motorcyclists accused of raging, basket case reported, truant laptops & a rooftop Do'h!
June 4-10: Scary accident near Reidy field; road rage report; youth confronted about social media posts
May 28-June : Death on commuter rail tracks; desperate ID thief opens Sears credit card; thrilling grill report; dumping at Bates
May 21-27: Suspected Shih Tzu puppy scam; contractor unwelcome; spare key mystery
May 14-20: Make-up artist sniffs out a scam; briefly missing children; still missing bike and cars
May 6-13: Contractor falls; cars damaged; Chinese government calling?
April 30-May 5: Dog bites mailman; dog poop problem; road rage; parking lot "spat"
April 23-29: Stuck in the cemetery mud; assault reported at Whole Foods parking lot; passport gets trashed, and so does a youth
April 16-22: Auburn St. car break-ins, retaliatory noise, employee accused of swearing
April 9-15: Threat reads "you can let us go but we can let you go too," Nintendo Switch left on train, embarrassing Bitcoin scam is back
April 2-8: A mysterious "special license," white powder in the mail, beware the blue hoodie & a complicated head-on crash
March 26-April 1: Backyard sculpture damaged; hey wait, that's my place on Craigslist; roof party!
March 19-25: Cable wires cut; prescription drugs missing after open house; more & more ID theft
March 11-18: Rogue plower, flurry of ID thefts, worker alleged to have swiped stuff
March 5-11: Whole Foods beer theft; fiancee has some explaining to do; pedestrian struck
Feb. 26-March 4: Dating website serves up mismatch, Amazon packages in the woods, tough week for deer
Feb. 19-25: Mystery purchases, lost elderly people, money missing from desk drawer
Feb. 12-18: Narcan administered; unemployment benefits nearly stolen; parking lot & locker room theft
Feb. 5-11: Youths riding scooters in hallways; truck wasn't stolen after all; cabbie accuses teens of fare evasion
Jan 29.-Feb. 4: Wellesley Police log: Home invasion and break-ins reported; the old desperate grandson scam; business threatened
Jan. 22-28: Wellesley Police log: Snow blower, iPhone X's & wedding/engagement rings go missing
Jan. 15-21: Wellesley Police log: Fight breaks out at police station; suspicious real estate photos; laptop goes missing at high school
Jan. 8-14: Wellesley Police log: Diaper duty; bathroom beer; dog needs to control its owner
Jan. 1-7: Wellesley Police log: Woman reportedly dragged from car; patrolling Cliff Road; jewelry & cash missing
2017
Dec. 25-31: Wellesley Police log: Ceiling fan fury, fast times on Rte. 9, $14K in jewelry missing
Dec. 11-17: Wellesley Police log: Rogue roofing; locker room theft; laptop not swiped after all
Dec. 4-10: Wellesley Police log: Worker falls 20 feet; $400 reported missing from Wellesley High locker room; $30K bracelet missing
Nov. 27-Dec. 3: Wellesley Police log: Neighbors dispute things being dropped on floor; child knocked out at playground; thefts at Wellesley High
Nov. 20-26: Wellesley Police log: construction equipment goes missing; unwanted texts; Grove Street suspicions
Nov. 6-12: Wellesley Police log: Giving thanks for no arrests
Oct. 30-Nov. 5: Wellesley Police log: rooftop wallet, going to take you down, a stolen safe
Oct. 23-29: Wellesley Police log: car door slammer, speedy dump truck, gun alarm
Oct. 16-22: Wellesley Police log: poop problem; more Meth; signature solicitor dumped
Oct. 9-15: Wellesley Police log: Crystal Meth confirmed; supermarket solicitors; Narcan administered
Oct. 2-8: Wellesley police log: A mysterious sleepyhead; dogs still biting; garden lights go dark
Sept. 25-Oct. 1: Wellesley Police log: Dogs in a biting mood; bank robbery at BoA; parking spot dispute
Sept. 18-24: Wellesley Police log: Call the forensic anthropologist; BB gun incidents; fleeing an ambulance
Sept. 11-17: Wellesley Police log: Stolen rabbit trap; lawn irrigation gone wild: pedestrian hit or not?
Sept. 4-10: Wellesley Police log: Airbnb party, property line dispute, trespassing kids
Aug. 28-Sept. 3:  Wellesley Police log: Alleged knife-wielding road rager; Vandals strike dump, tennis court; juice theft
Aug. 21-27: Wellesley Police log: Case of the missing gas cap, loads of fraud, unneighborly tree
Aug. 14-20: Wellesley police log: Driving off with gas pump nozzle, driving off with wallet atop car
Aug. 7-13: Dump fight; dumpster fire; playground fire
July 31-Aug. 6: Roche Bros. targeted by alleged thieves; dangerous driving on Rte. 9; jewelry lost & found
July 24-30: Wellesley Police log: erratic driver thought she was in New Hampshire; an axe goes missing
July 17-23: Wellesley Police Log: Fireworks & beer a bad combo; early construction work angers neighbor; ex-employees have Wellesley residents on edge
July 10-16: Wellesley police log (7/10/17-7/16/17): email bomb threat, online scam, firearm storage