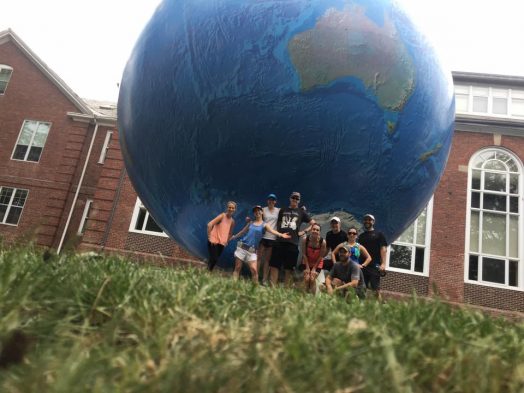 Visitors to Babson College's campus in Wellesley have come away disappointed in recent years upon seeing the 28-ft. diameter, 25-ton globe, a landmark that has not spun on its axis since the early 1990s and whose once colorful surface has faded and peeled away in sections.
But Babson says the globe is about to undergo a serious makeover that will once again make it a serious attraction, not to mention a great holiday card background (i.e., Peace on Earth).
The globe will be moved in March to begin a yearlong refurbishment that will result in the landmark becoming a centerpiece of a new Centennial Park to be located across from the main student center on campus beginning in May of 2019. Research will go into getting the globe to spin again, and students will be invited to take part in this effort.
Centennial Park will be another piece of a major Babson campus transformation involving the sports/recreation complex, the library and a new innovation hub.
The globe, once coupled with a 65-foot plaster relief map of the lower 48 states, highlighted the Map and Globe Museum in Coleman Hall when the sphere was dedicated in 1955.
The globe once was the largest of its kind, but barely avoided the wrecking ball in the 1980s after falling into disrepair. At one point covered in enamel tiles, the globe underwent a facelift in the early 1990s and Babson rededicated it  in 1993 with fresh vinyl tiles and new satellite imagery.
Babson says the new Centennial Park (not to be confused with Wellesley's Centennial Reservation) will showcase the school's history and entrepreneurial accomplishments over the past 100 years. It will also boast a statue of school founder Roger Babson as well as a reworked edition of the Fountain of Flags now seen in front of the Horn Library.
MORE: Wellesley outside art gallery