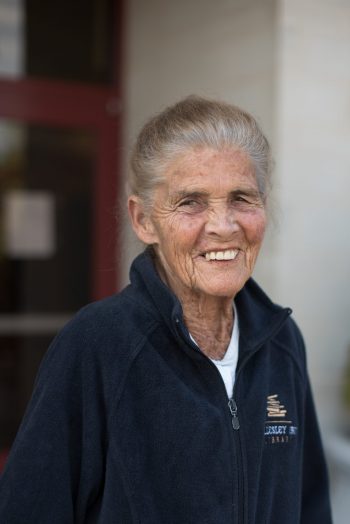 The Wellesley Library got a little quieter this month with the passing of beloved librarian Joellen (nee Maloney) Toussaint, 78, a long-time Wellesley resident whose mark was left in every nook of the town. Usually a person's obituary is cobbled together without that person's input, by someone who doesn't really know her. In Joellen's case, the former incisive interviewer from her years as a newscaster for Wellesley Public Television inadvertently practically wrote her own obit. She was recently interviewed and photographed by Beth Shedd, the lens behind a popular Instagram account she uses as a creative outlet for her amazing portraits and stories of town residents who touch her artistic soul.
In the interview, Joellen's positive nature, lifelong curiosity, and deep intelligence was revealed. She ticked off the basics: she was raised in Bedford and attended Concord Academy and Skidmore College, where she majored in Politics and History, and minored in Drama. She worked at the Council on Aging for ten years, and ran a book group there. She was a Town Meeting member for over 40 years, active with the Democratic Town Committee, and was a past president of the League of Women Voters.
But that only tells part of her story. More important are the details that tell you about who Joellen really was. Always a book lover, when Joellen moved to town in 1966 she worked at the Book Stall, located where Quebrada is now. It's a place that lives on only through the legacy knowledge of Wellesley's old-timers. You can't Google search the Book Stall. You had to be there, at this small spot where those who were there fondly remember the book-store smell of the place and of following up the visit with a stop at the adjacent Brigham's ice cream shop, which sadly melted down in 2009.
When the Book Stall closed its final chapter, Joellen opened another chapter of her own. She began working at the Wellesley Free Library, and did so for over 35 years where she became a fixture behind the circulation desk. It should come as no surprise that education was important in her family. In Beth's interview, Joellen said that "…her father was insistent that she get an excellent education and was more than concerned that her high school friends had voted her the class "Social Butterfly" (and worse yet, that the title was included in college transcripts). Joellen loved drama but figured she wasn't good enough to go to Hollywood…"
She was a self-professed news junkie who kept an upbeat attitude. When asked how she remained hopeful in the face of so much negativity in the news, Joellen said, "I don't know if we are born with it or we can learn it, but I believe that positive people should help other people get more positive. I do it by sympathizing and listening a lot and telling them that things aren't that bad."
WFL Assistant Director Elise MacLennan said about her: "Joellen was one of a kind, a lot of steel and a big personality in a tiny woman. At her funeral service, her son recalled how she used to read to them from the Winnie the Pooh books by A.A. Milne."
We all know about Pooh, the small bear that took up such a big part of Christopher Robin's heart. Joellen also had that effect on those who knew and loved her.
Joellen was a member of St. John the Evangelist Church in Wellesley, where her Mass of Christian Burial was celebrated. She was predeceased by her parents, her husband, and one of her four children. A sister, six grandchildren, many extended family members and friends survive her.
You can donate in Joellen's name to the Wellesley Food Pantry, money or food. They always need both, especially at this time of year.