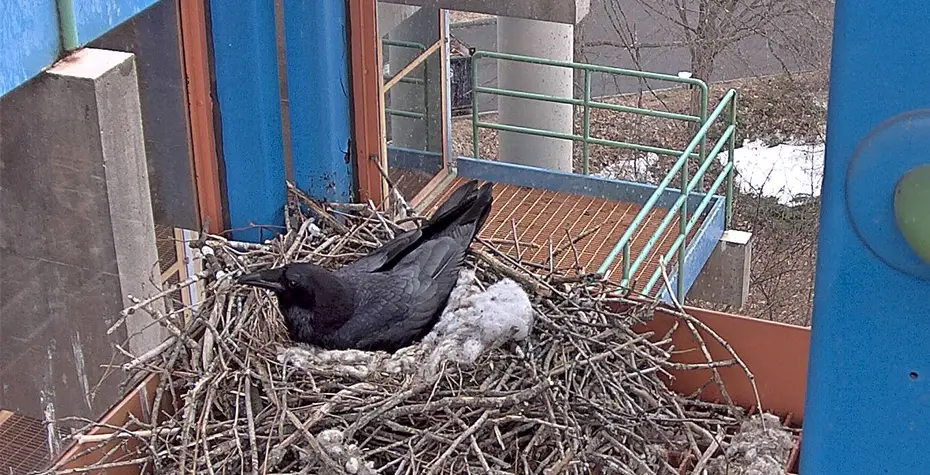 Earlier this month, we reported that ravens Pauline and Henry were back at their nesting spot in a glass-enclosed fire escape at the Wellesley College Science Center for the fourth consecutive year to incubate and presumably raise their clutch of four eggs. As usual, Pauline had been in charge of sitting on the nest, and Henry was taking care of Pauline's and his own nourishment needs. Everything looked great for the pair, named for Wellesley's founders the Durants, in a college-wide contest in 2013, until tragedy struck.
On a sunny Monday, March 13, before 8:30am, Henry flew into a window at the Schneider Center and died from his resulting injuries, followers of the 24/7 Ravencam set up to provide data for researchers and interest for casual observers learned. Wellesley College Professor of Biological Sciences Nicholas Rodenhouse confirmed Henry's death.
This put Pauline in a challenging situation, considering that she had been incubating four eggs, and Henry was her source of food support.
Now, in an interview with Wellesley College, Professor Rodenhouse has provided an update about Pauline and her progress, and answered questions concerned raven observers have been asking such as why the Ravencam was stopped; whether Pauline can be helped through human intervention; and how readers can prevent ravens and other birds from crashing into windows. You can see the interview in its entirety here. 
First of all, Pauline is managing. Three nestlings have hatched, and all three currently seem healthy. However, Rodenhouse says that Pauline "…may have an impossible job ahead of her."
Which brings us to the most-often heard question from The Swellesley Report readers: Why not help a raven out? Turns out, there are some important reasons, both legal and ethical, that don't allow that. On the legal side, ravens are covered under the Migratory Bird Treaty Act, among other rules and regulations, and that means that the College cannot simply put out raven-friendly food and hope for the best. That would be considered experimentation, which requires a permit from the U.S. Fish and Wildlife Service. Such permits take months to get in hand, assuming they would be granted at all.
On the ethical side, Rodenhouse asks, "Should we encourage wild birds to nest in areas that are actually or potentially harmful to them? …We know that three of the four fledglings from the 2016 brood died on or near campus in the first few weeks after fledging…Should we encourage Pauline to continue breeding in this high-risk environment?"
As the College continues to monitor the nest, Rodenhouse asks the community to search for ways to protect all birds in our own backyards.
What you can do to help
Mass Audubon offers the following suggestions for preventing bird/window crashes:
Go outside near your feeders and look at your windows from a bird's point of view. If you see branches or sky reflected in or through the glass, that's what the birds will see, too.
You can use any decals or stickers that are at least 6 inches in diameter to alert birds that they're in an unsafe flying zone. Make sure to place several on the outside of the window, one foot apart, both horizontally and vertically. Some decals contain a component that brilliantly reflects ultraviolet sunlight. When placed on the outside of the window, this ultraviolet light is invisible to humans, but glows brilliantly for songbirds.
Provide an impact-absorbing barrier. You can cover windows with screen that affixes to the glass using hooks or suction cups. This reduces the reflection and prevents injury by cushioning the bird if it inadvertently flies toward the window. It also prevents territorial birds from attacking their reflection in the glass.
If a bird does hit your window, you can try helping it out. When a bird hits a window, swelling in the brain may temporarily incapacitate it. If there are cats or other predators nearby, place the bird in an enclosed box or under a colander to keep it safe.
Handle the bird as little as possible and do not attempt to give it food or water. As the swelling subsides and the bird becomes more active, you may release it. If the bird doesn't recover, you'll need to enlist the help of an expert.
MORE:
Wellesley College ravens are back for a fourth consecutive year
Wellesley College raven Henry smashes into window; Pauline left to fend for herself, family