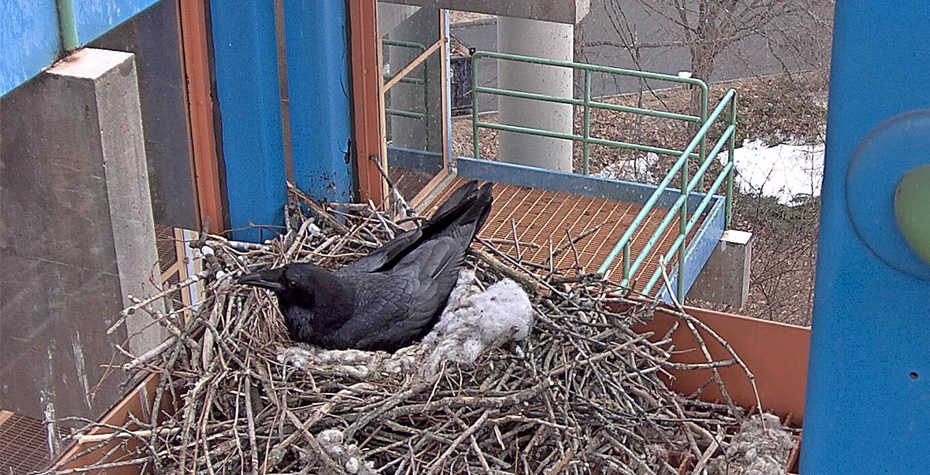 The Wellesley Science Center has been the perfect place to raise a family for the last few years for ravens Pauline and Henry, who this year returned for a fourth consecutive year. Unfortunately, on a sunny Monday, March 13, before 8:30am, Henry flew into a window and died from his resulting injuries, Wellelsey College Professor of Biological Sciences Nicholas Rodenhouse has confirmed.
This puts Pauline in a challenging situation. She is incubating four eggs, and Henry was her source of food support. According to Rodenhouse, "Pauline has been able to sustain herself to this point. Where she finds food near the nest is unknown.  She is rarely off the nest for more than 6 minutes on cold days — and most recent days have been cold. Henry did feed her on the nest."
Pauline and Henry probably chose the campus in the first place for its cliff-like buildings in a productive landscape. The Science Center, surrounded by shrubs and trees, sits along an open, sometimes damp, meadow. The nest is high up in a partially glass-enclosed fire escape on the sunny side of the building from where they can see Galen Stone Tower, Houghton Chapel, more trees and open spaces, and Lake Waban. In the past, the glass hasn't been a problem for either bird.
Whether the college will step in and help out Pauline or let nature run its course is undecided at this time. Rodenhouse is continuing to contact those who might be able to provide useful information about the options. In the meantime, the ravencam has been turned off, and there are no plans to turn the camera back on for public viewing. In past years, a 24/7 video recording of the nest made over the course of the spring nesting has provided a unique cache of data for researchers.
Rodenhouse says that "multiple meetings will be held in the coming weeks to determine what can be done on campus to protect birds from window collisions.  Please encourage your community to consider taking action in their homes and communities."
According to the Mass Audubon website,  birds fly into windows because they don't understand the concept of reflection. When they attempt to fly into the landscape they see in a reflection (such as tree branches and leaves), they strike the barrier they can't see. In addition, a bird being pursued by a predator will sometimes fly into a window.
What you can do to help
Mass Audubon offers the following suggestions for preventing bird/window crashes:
Go outside near your feeders and look at your windows from a bird's point of view. If you see branches or sky reflected in or through the glass, that's what the birds will see, too.
You can use any decals or stickers that are at least 6 inches in diameter to alert birds that they're in an unsafe flying zone. Make sure to place several on the outside of the window, one foot apart, both horizontally and vertically. Some decals contain a component that brilliantly reflects ultraviolet sunlight. When placed on the outside of the window, this ultraviolet light is invisible to humans, but glows brilliantly for songbirds.
Provide an impact-absorbing barrier. You can cover windows with screen that affixes to the glass using hooks or suction cups. This reduces the reflection and prevents injury by cushioning the bird if it inadvertently flies toward the window. It also prevents territorial birds from attacking their reflection in the glass.
If a bird does hit your window, you can try helping it out. When a bird hits a window, swelling in the brain may temporarily incapacitate it. If there are cats or other predators nearby, place the bird in an enclosed box or under a colander to keep it safe.
Handle the bird as little as possible and do not attempt to give it food or water. As the swelling subsides and the bird becomes more active, you may release it. If the bird doesn't recover, you'll need to enlist the help of an expert.