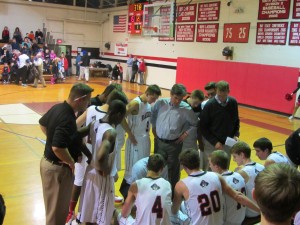 Glenn Magpiong, the Wellesley High School boys basketball coach since 2004, this season will take on a new challenge at the school: He's been named varsity coach for the girls' basketball team.
Magpiong will not be taking on double-duty: The school has yet to name a boys coach.
Magpiong, who has been on the boys' basketball coaching staff since 2004 and is shown in the middle of the huddle above, is an experienced girls coach as well.  According to Athletic Director John Brown, Magpiong prior to coming to Wellesley High was the girls' varsity basketball coach at Acalanes High School in Lafayette, Calif. Under his direction, Acalanes won the North Coast California Section Championship. He has also been a girls' AAU coach with the Bay State Jaguars.
At WHS, Magpiong replaces Kristin Cieri, who coached the team for the past 18 seasons.
RELATED: Outdoor basketball court grand opening will be Oct. 25