Our roundup of the latest news from MassBay Community College, which has a campus in Wellesley on Oakland Street at Rte. 9 east:
MassBay President's update
MassBay President Dr. David Podell shared an update on the community college on Tuesday, May 16 with the Wellesley Select Board (about 4:30 minutes into the Wellesley Media recording).
He began with a profile of students, who tend to attend school part-time, tend to have at least 1 job, are age 26 on average, and are attracted to MassBay for programs such as automotive, health science, and business. Many come for associates degrees, but many others use MassBay as a way station on their path to a bachelor's-granting college. Podell says he hears from some students that classes at MassBay are tougher than at other colleges.
"Community colleges have a reputation, unjust I think, of being an extension of high school. But what we do is serious academic work, but with supports…," he said, that include addressing food insecurity, childcare, and transportation. "So we've moved somewhat into the social services field."
Other items of note:
MassBay later this year will open its first building constructed for the school. It will be on the Framingham campus and focus on health sciences education.
There are no plans to build dorms in Wellesley, as there's not enough demand
Podell's excited about a state initiative that could make community college free to those 25 years old and up who have completed required financial aid paperwork
"We [community colleges] serve 42% of the public higher education students in the Commonwealth but we only get 25% of the money. And that's because of an old formula that funds UMass very generously and the state universities a little less generously, and the community colleges the least. Because of prejudices of the past we're looked upon as an extension of high school, and it's infuriating. But it means that we can't help students who need us the most…"
Commencement coming
MassBay Community College will hold its 61st  commencement ceremony on Thursday, May 25 at 6 p.m. on the Wellesley Hills campus. The ceremony will draw thousands of people to celebrate MassBay graduates, impacting traffic in and around the campus between 4–8 p.m. The MassBay Police Department and the Wellesley Police Department will work together to ensure traffic and pedestrian safety during this event.
Digital sign toned down
MassBay hopes its new digital sign will get the attention of commuters passing its campus on Rte .9. As it turns out, the sign also got the attention of some neighbors, who complained to the town about it.
"The light dominates the night sky and shines directly into my second floor windows from sunset to sunrise. Not so bad now but I will be more affected as fall arrives and sunsets get earlier. The issue is mostly the negative visual to a residential area," wrote on reader, who notes that the light will impact those who wind  up living in planning new homes at that intersection.
MassBay has agreed to dim the sign from 10pm-midnight, and to turn it off after that until 5am, according to an update provided during a recent Wellesley Planning Board meeting (see Wellesley Media recording, toward the end). Though I will say when traveling past it after midnight this past Saturday night, it was on.
Hopefully this a compromise that will work for all.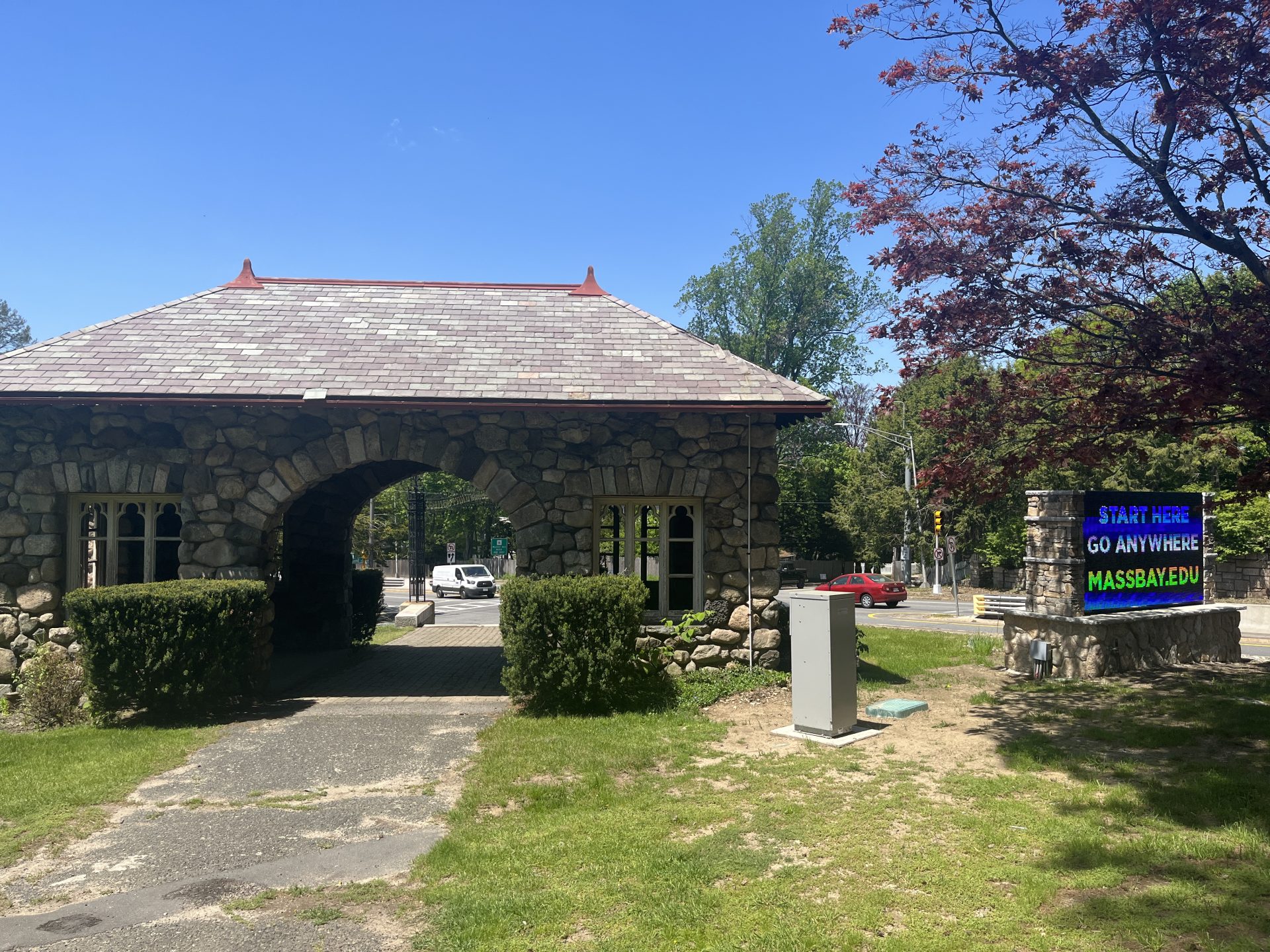 Wellesley resident joins board
Separately, David S. Kennedy of Wellesley has been approved to join the MassBay Community College Foundation Board for a three-year term.
The Board enhances the vitality of the College by promoting investment from external sources, growing the endowment, awarding scholarships, and creating partnerships for learning.
Kennedy is a senior fixed income portfolio manager at Columbia Threadneedle Investments.
---
Please send tips, photos, ideas to theswellesleyreport@gmail.com