People who live in $1,500-per-month rent-stabilized units in New York City's Upper West Side don't generally elicit a lot of sympathy. No matter how deep their problems run, they can never escape the undercurrent of envy from those paying three times that for a glorified closet with no closets, and a kitchen equipped with a hot plate and mini-fridge.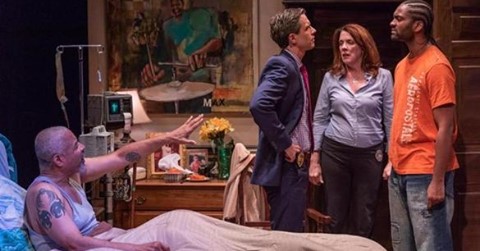 Not even if you're a the former NYC cop and widower Pops, who was shot multiple times by a white cop and left unable to work. It was a clear-cut case of hanging out in a sketchy bar while black. The violence from that night has come to define Pops' life, even as others beg him to settle his case with the city and move on in Stephen Adly Guirgis' 2015 Pulitzer Prize-winning play Between Riverside and Crazy, playing at Speakeasy Stage in Boston's South End through October 13. The action is set in a tough town where the apartment may be big, but the problems of Guirgis' characters are even bigger.
Pop by and stay awhile
Pops, played with former-cop roughness by Tyrees Allen with a voice that growls when he's in a good mood and spits out staccato anger when he's not, is the lord of a manor that is slowly sliding into decay. Three young people share in/squat at his place, and they all call him some variation of "Father".  His only actual progeny is Junior, played by Stewart Evan Smith with hangdog skulk. Junior is disappointed in himself, knows Pops is disappointed in him, and is glad his mother isn't alive to see the petty electronics thief he's become. Pops, for his part, is a tough taskmaster who demands a purity of motive from others that he doesn't demand from himself.
If you're looking for a feel-good plot and characters to cheer for as they lift themselves and others out of difficult situations, this isn't the play for you. It's got a set-you-on-edge kind of edginess, it pushes buttons, it tests limits in a way All in the Family used to in the 1970s. Just like in Archie Bunker's house, you can tell the same arguments have been swirling around for years, never getting resolved but still emerging, precisely because they've never been resolved. Frustratingly, it seems certain characters don't want certain issues resolved. If deep problems reach resolution, if blame is assigned and accepted, then the concept of fault becomes moot. That concept of fault is a recurring theme in the play.
Realistically, there are multiple problems the play addresses that can't be magically solved by getting sober, by keeping the "right" sort of company, by bringing the stubborn around to the "correct" way of thinking, or by cutting a big check.
Some of the issues could have been taken care of long ago, some are rooted as deeply as race and class divides in this dark, dramatic comedy. Between Riverside and Crazy is tautly directed by Tiffany Green with deep understanding of the characters, their flaws, and their need to at least try to steer their own ships in the face of gale-force winds.